Family Day is a Day to Eat Dinner With Your Children.
Make Something Delicious Together on Family Day, Monday, Sept. 22nd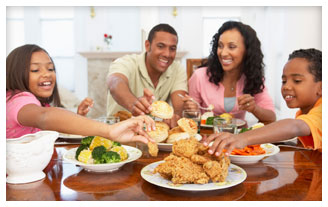 Hectic work schedule? Swimming in after-school activities? Do outside influences interfere with your family's dinnertime? Family Day(tm) (September 22, 2014) is a national effort to promote family dinners as an effective way to reduce youth substance abuse and other risky behaviors, as research by The National Center on Addiction and Substance Abuse at Columbia University consistently finds that the more often children eat dinner with their families, the less likely they are to smoke, drink or use illegal drugs.
This September 22nd, Informed Families invites you to spend time with the original social network (your family at the dinner table!) and join us in standing up for sitting down to dinner.