33rd Annual Informed Families Dinner At Joe's Recap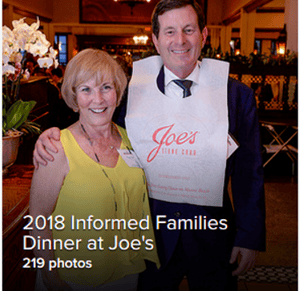 Miami's finest gathered for Informed Families/The Florida Family Partnership's 33rd Annual Dinner At Joe's, showing their support for preventing drug problems before they start. The illustrious event, held on Monday, May 14, 2018, was chaired by Joe Natoli of Baptist Health South Florida.

Close to $250,000 was raised to support Informed Families' statewide prevention programs and initiatives designed to help kids grow up safe, healthy and drug free.

400 guests attended the dinner, which was complete with local celebrity sightings, a pre-dinner Street Party and of course Joe's signature stone crabs, coleslaw, hash browns, key lime pie and legendary service.

Several attendees who haven't missed a Joe's dinner were recognized with a special pin to commemorate their commitment to Informed Families and helping kids grow up safe, healthy and drug free.

Read more.