Want a ticket to Miami's greatest social night?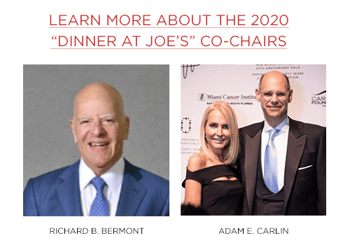 Who can resist sharing a dinner of Joe's famous Stone Crabs alongside family and friends? The annual Informed Families Dinner at Joe's is an event with NO waiting and no boring speeches; just good friends and families who want to help kids grow up safe, healthy and drug free!
Dine on Joe's world-famous stone crab claws, indulge with a slice of Joe's scrumptious key lime pie, mingle among Miami's movers and shakers. Informed Families' legendary Dinner at Joe's is the social event of the season you DON'T want to miss!
We invite you to join us at the 35th Annual Informed Families Dinner at Joe's Stone Crab Restaurant on Monday, May 18, 2020. This year's Joe's Co-chairs are Richard Bermont and Adam E. Carlin of Bermont Carlin Wealth Management.

Informed Families has partnered with Joe's Stone Crab Restaurant for over three decades to help keep children in South Florida and beyond safe, healthy and drug free. Many of the annual event attendees have regularly attended since the first dinner in 1985.

The Informed Families dinner at Joe's brings out Miami's best families. Will you be part of this year's social event? To review sponsorship options, please visit the sponsor page. For more information, please contact Milly Davila at edavila@Informedfamilies.org or 305-856-4886.