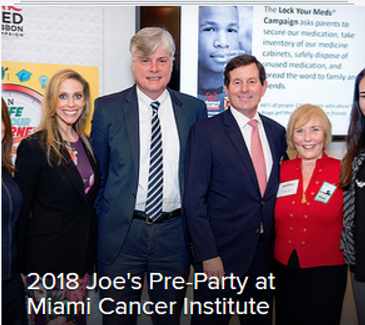 Informed Families kicked off preparations for its 33rd Annual Dinner at Joe's Stone Crab Restaurant at an exclusive Pre-Party held at the Miami Cancer Institute (MCI) at Baptist Health South Florida (BHSF).
President & CEO Peggy Sapp and Joe's Event Chair Joe Natoli welcomed guests who shared their favorite stories from past dinners and enjoyed live music from the Greater Miami Youth Symphony. Guests received tours of the new Proton Therapy Center at MCI. BHSF's Care & Counseling team presented on the Opioid epidemic, which led to a thoughtful conversation on how we can tackle the crisis.
Check out photos from the Pre-Party!
The Annual Informed Families Dinner at Joe's, to be held on Monday, May 14, supports programs that further the organization's mission of helping kids grow up safe, healthy and drug free.
Informed Families has partnered with Joe's Stone Crab Restaurant for over three decades to help keep Florida's children safe, healthy and drug free. Many of the annual event attendees have regularly attended since the first dinner in 1985.
The Informed Families dinner at Joe's brings out Miami's best families. Will you be part of this year's festivities? Check out our sponsorship options and for more info, please contact Milly Davila at edavila@informedfamilies.org or (305) 856-4886.