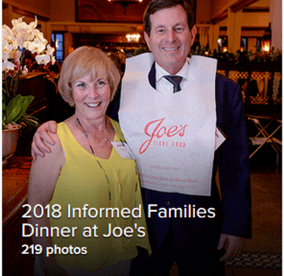 Dedicated Event Chair Joe Natoli & Sponsors Took Annual Event To New Heights
Miami's finest gathered for Informed Families/The Florida Family Partnership's 33rd Annual Dinner At Joe's, showing their support for preventing drug problems before they start.
The illustrious event, held on Monday, May 14, was chaired by Joe Natoli of Baptist Health South Florida. Close to $250,000 was raised to support Informed Families' statewide prevention programs and initiatives designed to help kids grow up safe, healthy and drug free.
400 guests attended the dinner, which was complete with local celebrity sightings, a pre-dinner Street Party and of course Joe's signature stone crabs, coleslaw, hash browns, key lime pie and legendary service. Several attendees who haven't missed a Joe's dinner were recognized with a special pin to commemorate their commitment to Informed Families and helping kids grow up safe, healthy and drug free.
Some notable event attendees include: Betty Chapman and Dale Chapman Webb, Alfred & Pam Giganti Bunge, Penny Shaffer, Nancy & Jon Batchelor, Dorothy & Aaron Podhurst, Susan & Jim Carr, Judge Norma & Eugene Lindsey, Ginger Mead, Susan & Robin Shelley, Al Cardenas, State Attorney Katherine Fernandez-Rundle, Senator Anitere Flores and State Representative Nick Duran.
"Informed Families focuses on addressing and preventing addiction and mental health issues among children and families by reducing risk factors and increase protective factors affecting our children," said President & CEO Peggy Sapp. "We are so grateful to our community of Joe's event supporters who inspire us with their outpouring of generosity and serve to remind us of the power of community involvement, which in itself is a protective factor."
The event's success is the result of the dedication and generosity of the following sponsors:
Sapphire Claw Sponsor:
Baptist Health South Florida
Emerald Claw Sponsors:
Crescent Heights
EWM Realty International
Jim & Susan Carr
Colossal Claw Sponsors:
Coral Gables Trust Company
The Bermont Advisory Group | Peter L. Bermont
Trish & Dan Bell
Jumbo Claw Sponsors:
Avison Young
Betty B. Chapman & Dale Chapman Webb
Dr. Linda Neider & Dr. Paul Sugrue | Dr. Greg Sharp & Dr. Andrea Heuson-Sharp
Ginger Mead
Mercedes-Benz of Coral Gables
Miami-Dade County Fair & Exposition
Sherrill & Mary Ann Hudson
Tammy & Butch Davis
The Bermont/Carlin Group at Morgan Stanley
Large Claw Sponsors
Aon
Bilzin Sumberg

Charlie & Marabel Morgan

Commissioner Sally Heyman

DeFabio Beckham Solis

Ernst & Young LLP

Fowler White Burnett, P.A.

J.P. Morgan

Kabat, Schertzer, De La Torre, Taraboulos and Company

Katz Barron

Lynx Construction Management

Podhurst Orseck, P.A.

Police Officer Assistance Trust

Robert M. Levy & Associates, Inc.

The Garner Family Foundation

The Goldsmith Family Foundation

TUUCI

Vilar-Hoynack Construction Co.
Informed Families Supporters
Cobb Family Foundation
Medina Family Foundation

Neca Logan

Pam Garrison

Peggy Sapp

Squire Patton Boggs

The Tonkinson Foundation

Village of Miami Shores Police Department
Planning is already underway for the 2019 Informed Families Dinner at Joe's. Who can resist sharing a dinner of Joe's Stone Crabs with family and friends? The annual Informed Families Dinner at Joe's is an event with NO boring speeches; just good friends and families who want to help kids grow up safe, healthy and drug free!
The Informed Families dinner at Joe's brings out Miami's best families. Will you be part of next year's festivities? For more information, please contact Milly Davila at Edavila@Informedfamilies.org or 305-856-4886.