If your child has suddenly become moodier or more easily upset than usual, if they seem to be avoiding certain situations like taking the bus to school, or if you notice they're suddenly not eating or sleeping well, they may very well have become the target of a bully.
Bullying is intentional torment in physical, verbal, or psychological ways, aimed at a victim who is perceived as less powerful. It can have serious, life-long consequences, including depression, low self-esteem, health problems, even school shootings and suicide.
Often a child won't tell their parents they're being bullied because they're embarrassed, or they're afraid their parents will only make matters worse if they step in to stop it.
What you can do
Keep the lines of communication open. Talk to your children now about bullying—what it is, who does it, and why—so they'll be prepared if it happens to them. Teach them that it's important to tell you if they become the victim of a bully.
If you suspect your child is being bullied, let them know you have their back, and teach them how to respond:
calmly tell the bully to stop, then walk away
don't let the bully see they're upsetting you
avoid the bully and never be alone with them
tell an adult what's going on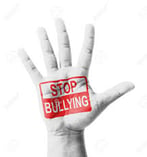 If the situation becomes serious, keep any evidence of it, such as a record of incidents, damaged or missing possessions, screenshots of cyberbullying, etc.
Contact the school and report it. Follow up to see what steps the school has taken to stop it. If the bullying includes physical harm or threats of violence, or sexual violence or sexually explicit images, report it to the police.
The U.S. Department of Health and Human Services (HHS) website (https://www.stopbullying.gov/resources/what-you-can-do) has more information on what parents can do to stop the bullying.