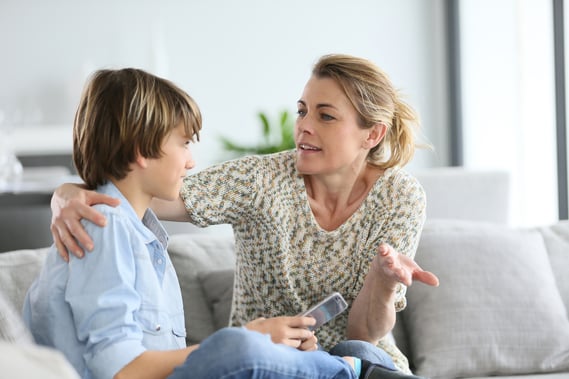 How Are Your Kids Handling the COVID-19 Pandemic?
Fear and anxiety about the COVID-19 pandemic can be overwhelming and cause strong emotions in both adults and children. We are all trying to adjust to our new normal as things continue to rapidly change.
While you are struggling with health concerns, school closures, having to work remotely and financial uncertainty, your kids have suddenly been cut off from school, friends, extracurricular activities and more. How are your kids coping?
According to the CDC, children and teens are among the groups of people who may respond more strongly to the stress of a crisis.
Ways to help kids manage stress and anxiety
So what parenting advice is there to help kids manage their stress and anxiety during the coronavirus outbreak?
It is important to keep in mind that children and teens react, in part, on what they see from the adults around them. Positive parenting is key right now.
When parents and caregivers deal with the COVID-19 calmly and confidently, they can provide the best support for their children," the CDC says.
Just like adults, not all children and teens react to stress in the same manner. Some children react right away, while others may show signs of difficulty much later. How a child reacts and the common signs of distress can be different depending on their age, previous experiences, and how the child typically copes with stress, the CDC notes.
Some of the signs that your child or teen may be stressed include:
Excessive crying or irritation in younger children
Returning to behaviors they have outgrown (for example, toileting accidents or bedwetting)
Excessive worry or sadness
Unhealthy eating or sleeping habits
Irritability and "acting out" behaviors in teens
Poor school performance or avoiding school
Difficulty with attention and concentration
Avoidance of activities they previously enjoyed
Unexplained headaches or body pain
Use of alcohol, tobacco, or other drugs
If you believe a child or teen may be stressed or overwhelmed by the coronavirus pandemic, the CDC recommends ways to support them, including:
Taking the time to talk with your child or teen about the COVID-19 outbreak. Additionally, you should answer questions and share facts about COVID-19 in a way that your child or teen can understand.
Reassuring them that they are safe. Let them know it is alright if they feel upset. Share with them how you deal with your own stress so that they can learn how to cope from you. Family meal times are a great opportunity to have these conversations.
Limit your family's exposure to news coverage of the event, including social media. Children may misinterpret what they hear and can be frightened about something they do not understand.
Trying to keep up with regular routines. If schools are closed, create a schedule for learning activities and relaxing or fun activities. Visit the Family Day: Activities board for some ideas.
Be a role model. How? According to the CDC, by taking breaks, getting plenty of sleep, exercising, and eating well. Remember to connect with friends and family members.