Here's just one more reason why it's such a bad idea to legalize marijuana: A recent report from the National Poison Data System (NPDS) found that calls to poison control centers about kids five and under accidentally consuming marijuana edibles rose from 207 in 2017 to 3,054 in 2021—a 1,375 percent increase. In 98 percent of these cases, the victims found the edibles either at home or at a friend's house.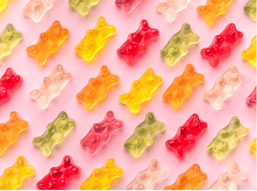 The study, published last month in the journal Pediatrics, found that just over half of the reports involved two- and three-year-olds, followed by four-year-olds (18 percent) five-year-olds (13 percent), and infants (1.9 percent). Although no deaths were reported, nearly 25 percent of those children were admitted to the hospital and eight percent of them required intensive care.
Symptoms of THC intoxication—the psychoactive ingredient in marijuana—in young children can include confusion, hallucinations, fast heart rate, seizures, and vomiting.
Dr. Antonia Nemanich, a co-author of the study and an assistant professor of emergency medicine and toxicology at Rush University Medical Center in Chicago, told NBC News, "It can be really concerning for the physicians treating them."
Deliberate packaging
The problem is these legal products are packaged in a way that makes them look like candy to young kids.
"Edibles that look like candy packages or Dorito chips, Fritos, those types of edibles is what I'm seeing more than of cookies or things that you can bake at your home," Virginia Beach, Virginia, narcotics detective Sgt. Derek Reed told WAVY-TV News.
Lyla Hunt, deputy director of public health and campaigns at New York's state Office of Cannabis Management (OCM) told ABC News that such packaging is illegal in New York, which legalized recreational marijuana in 2021. She said she recently saw a cannabis product calling itself "Stony Patch Kids" that looked very similar to the popular candy "Sour Patch Kids."
The increase in poisoning cases as reported by the NPDS coincides with the rise in the number of states allowing the use of marijuana for medicine or recreation, ABC News reported.
And because these edibles are often packaged to look like candy or cookies, kids aren't aware of the risk they pose, sometimes eating several in a single setting, Nemanich told NBC News.
"They don't know what it is, and they don't know when to stop," she said.
This is why Informed Families continues to vigorously oppose the legalization of marijuana.