'Tis the season for giving, the time when we rush around in a frenzy buying presents for friends and family. We also use this time to remember those who are less fortunate than ourselves, and share our good fortune by donating to various charities.
And it turns out that our generosity not only makes the recipients happy and helps others, it's also good for our own mental and physical health.
According to a new report from the Cleveland Clinic, the health benefits associated with giving include:
lower blood pressure
increased sell-esteem
less depression
lower stress levels
longer life
greater happiness and satisfaction
faster recovery from illness
"There is evidence that, during gift-giving behaviors, humans secrete 'feel-good' chemicals in our brains, such as serotonin (a mood-mediating chemical), dopamine (a feel-good chemical), and oxytocin (a compassion and bonding chemical)," the report explains.
"When you look at the functional MRIs of subjects who gave to various charities, scientists found that giving stimulates the mesolimbic pathway, which is the reward center in the brain—releasing endorphins and creating what is known as the 'helper's high.' "
The report goes on to note that, like other highs, the "helper's high" is addictive, but in the best possible way. It is the one kind of "addiction" you might want to encourage in your children.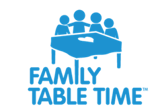 As it happens, "Season of Giving" and "Sharing" are two of the topics in Informed Families' Family Table Time activity kit for December. If you haven't yet taken advantage of this valuable resource, you owe it to yourself to try it. Sign up now to receive your first kit and each week you'll receive colorful and engaging Family Table Time materials specially designed to nurture communication and bring your family closer.
If you want to try Family Table Time before committing, you can receive a FREE four-week subscription, which includes an agenda for family meetings, character-based conversation starters, quick and easy family recipes, and suggestions for fun physical activities families can do together. So why not sign up today!