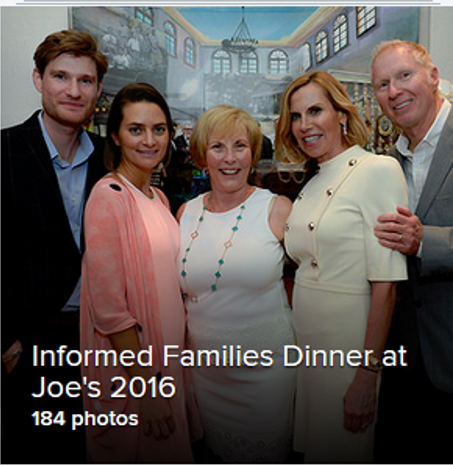 Generations of drug prevention supporters and Joe's Stone Crab enthusiasts united to celebrate Informed Families/The Florida Family Partnership's 31st Annual Dinner at Joe's Stone Crab on Monday, May 16th. Following the generations theme, the illustrious event was co-chaired by generous philanthropists Nancy & Jon Batchelor and Anna & Jon Batchelor, Jr. Close to $200,000 was raised to support Informed Families' statewide prevention programs and initiatives designed to help kids grow up safe, healthy and drug free.
Over 400 guests attended the dinner, which was complete with local celebrity sightings, a pre-dinner social and of course Joe's signature stone crabs, coleslaw, hash browns, key lime pie and legendary service. Several attendees who haven't missed a Joe's dinner were recognized with a special pin to commemorate their commitment to Informed Families and helping kids grow up safe, healthy and drug free.
Some notable event attendees include: State Attorney Katherine Fernandez Rundle, Tammy & (Coach) Butch Davis, Jeff & Meg Wright, Dale Chapman Webb, Dorothy & Aaron Podhurst, Mary & Joel Eaton, Judge Robert Luck, Margarita & Armando Codina, Judge Norma & Eugene Lindsey, Dr. Larry Feldman, Penny Shaffer, Anita & Ron Shuffield, Ruth & Steve Marcus, Ginger Mead, Susan & Robin Shelley, Sherri & Doug Bartel and Judge Jason Bloch.
"Each year, we benefit from an outpouring of generosity from families who care about helping kids grow up safe, healthy and drug free," said Informed Families/The Florida Family Partnership President & CEO Peggy Sapp. "As a founder of the organization, it's inspiring to see many of our supporters passing down the message to the next generation. This year, we honored those families."
Aside from Informed Families, the big winner of the night was Steve Calderon, who won the grand raffle prize: dinner for 20 guests at Joe's Stone Crab restaurant.
Informed Families Thanks The Following Generous Event Sponsors:
Diamond Claw Sponsors: Peter L. Bermont, Richard B. Bermont, Adam E. Carlin, Michael D. Gold; EWM Realty International/Christie's International Real Estate; Health Foundation of South Florida
Pearl Claw Sponsors: Nancy Batchelor Team and Gulliver Schools
Valet Sponsor: Coral Gables Trust Company
Sapphire Claw Sponsors: Avison Young; Dale Carnegie Training; Tammy & Butch Davis; Ginger Mead; Podhurst Orseck, P.A.
Silver Claw Sponsors: Betty B. Chapman, Dale Chapman Webb, Kristy Webb Figueras; Codina Partners; Fowler White Burnett, P.A.; The Garner Family Foundation; Goldsmith Family Foundation; Grossman Roth Yaffa Cohen; JMH Development; Robert M. Levy & Associates; Markham & Stein; Police Officer Assistance Trust; Dr. Andrea Heuson-Sharp & Dr. Greg Sharp; Dr. Linda Neider & Dr. Paul Sugrue; Rick & Margarita Tonkinson; TUUCI
Invitation Sponsor: Jack & Natasha Lowell
Gift Sponsor: Mercedes-Benz of Coral Gables
Friends of Joe's: Peggy Sapp; Village of Miami Shores Police Department
Special thanks to our long-time supporters, Baptist Health South Florida and Florida Blue.