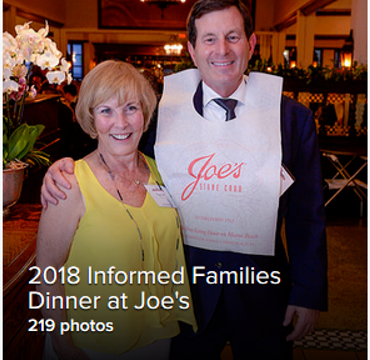 Dedicated Event Chair Joe Natoli & Sponsors Took Annual Event To New Heights
Miami's finest gathered for Informed Families/The Florida Family Partnership's 33rd Annual Dinner At Joe's, showing their support for preventing drug problems before they start.
The illustrious event, held on Monday, May 14, was chaired by Joe Natoli of Baptist Health South Florida. Close to $250,000 was raised to support Informed Families' statewide prevention programs and initiatives designed to help kids grow up safe, healthy and drug free.
400 guests attended the dinner, which was complete with local celebrity sightings, a pre-dinner Street Party and of course Joe's signature stone crabs, coleslaw, hash browns, key lime pie and legendary service. Several attendees who haven't missed a Joe's dinner were recognized with a special pin to commemorate their commitment to Informed Families and helping kids grow up safe, healthy and drug free.
Some notable event attendees include: Betty Chapman and Dale Chapman Webb, Alfred & Pam Giganti Bunge, Penny Shaffer, Nancy & Jon Batchelor, Dorothy & Aaron Podhurst, Susan & Jim Carr, Judge Norma & Eugene Lindsey, Ginger Mead, Susan & Robin Shelley, Al Cardenas, State Attorney Katherine Fernandez-Rundle, Senator Anitere Flores and State Representative Nick Duran.
"Informed Families focuses on addressing and preventing addiction and mental health issues among children and families by reducing risk factors and increase protective factors affecting our children," said President & CEO Peggy Sapp. "We are so grateful to our community of Joe's event supporters who inspire us with their outpouring of generosity and serve to remind us of the power of community involvement, which in itself is a protective factor."
The event's success is the result of the dedication and generosity of the following sponsors: