Every generation develops its own slang, its own secret language, and shorthand ways of communicating that keep parents in the dark about what they're up to. As a parent, it's frustrating, but it's also a perfectly normal part of growing up.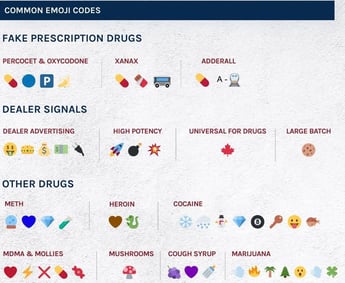 These days, though, letting them have their little secrets can have deadly consequences, especially online.
The meaning behind the symbols
Did you know, for example, that an innocent-looking palm tree emoji means marijuana? Or that a horse signifies heroin?
A plug (on the end of an electric cord) is a drug dealer or someone who can "hook you up" with drugs. Combined with a rocket, this set of emojis is telling prospective customers that their drugs have high potency.
These codes are from the "emoji drug code" released by the Drug Enforcement Administration (DEA) in an effort to help parents understand how drug dealers are secretly communicating with buyers.
"When it comes to teens and drug use, social media can play a huge role," the DEA says. "On average, teens spend more than seven hours a day in front of a screen (outside of schoolwork).
"The code is a reference guide intended to help parents get a better sense of how emojis can be used in connection with illegal drug activity," the agency says.
Other symbols include:
a crystal diamond (methamphetamine)
a snowflake (cocaine)
a lightning bolt (MDMA/Molly)
a chocolate bar (Xanax)
a chocolate chip cookie (dealer has lots of drugs)
a purple heart (cough syrup)
a pink and gray mushroom (Psilocybin or "magic" mushrooms)
a green dragon (heroin)
a red maple leaf (drugs)
And there are more. You can find them at the DEA's website or SmartSocial.com.
Be alert
The DEA cautions parents not to jump to conclusions if they see some of these emojis, because they can often have innocent meanings.
But if you see a teen using these along with other warning signs like changes in behavior and appearance, then it's time for a talk. The agency offers these tips.
Talk to your teen about the implications of their actions when using the Internet and social media.
Monitor what they do online and on the phone by learning about the websites and mobile apps they use.
Block inappropriate content by using parental control features.
Learn about the slang and emojis that kids use while texting on their phones, posting on social media, or DMing (direct messaging) other users.