H. Eugene Lindsey III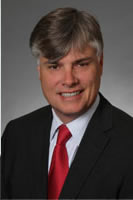 H. Eugene Lindsey III is an attorney and member of the law firm of Katz Barron Squitero Faust. Mr. Lindsey concentrates his practice on the areas of complex civil litigation, including trial and appellate practice. He has practiced in Miami for more than 15 years and, prior to that, in New York City, representing clients in federal and state courts throughout the United States and Florida. Mr. Lindsey has represented clients in shareholder, corporate control, and franchise disputes, class actions, securities litigation, business valuations, forfeiture actions and asset recovery matters.
Mr. Lindsey obtained his JD degree from the American University, where he graduated summa cum laude and also holds a Masters of Law degree from Columbia University , where he was a James Kent Scholar. Mr. Lindsey obtained his undergraduate degree in Political Science from the University of Pennsylvania.
Mr. Lindsey is a former law clerk to the Honorable M. Blane Michael of the United States Court of Appeals for the Fourth Circuit.
Mr. Lindsey resides in Coconut Grove, Florida with his wife, Norma, and their ten year-old daughter, Cameron. They enjoy tennis, running, and watching fun movies.