Pat Barton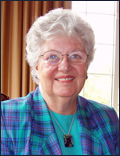 Pat Barton is a committed activist in the field of drug prevention in Naples, Florida. As a member of the Board of Trustees of Informed Families, Barton provides a wealth of knowledge in the area of prevention and education.
Pat is a former Realtor-Associate, Former President of Florida Informed Parents and Founding member of Naples Informed Parents, and a former drug prevention and educational consultant for numerous state and federal organizations.
Barton is the recipient of numerous local, state and national awards for her tremendous advocacy and volunteerism. She is a devoted wife, mother and grandmother of eight.