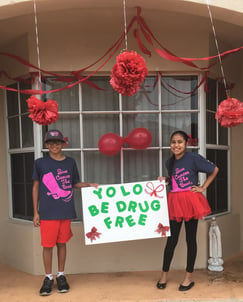 'Tis the season for giving! Two Florida schools are the recipient of $1,000 each as part of Informed Families' 2016 Florida Red Ribbon Week Photo Contest. Gabriela Sanchez of Miami won an iPad for her family and $1,000 for Good Shepherd Catholic School. Paola Stauffer, an administrator at Orlando Science Elementary School, won an iPad for herself and $1,000 for her school.
The contest took place as a part of National Red Ribbon Week ® – the nation's oldest and largest drug prevention campaign, sponsored by the National Family Partnership (NFP). During the month of October, the Sanchez family decorated their home front door and Paola Stauffer worked with her Orlando Science Elementary School community to decorate the school's campus with this year's Red Ribbon Week theme, "YOLO. Be Drug Free™." All this was done to promote their commitment to living a healthy and drug-free lifestyle.

"I loved decorating my home with a drug free message," said Gabriela Sanchez, a teacher and mother of two children who attend Good Shepherd Catholic School. "The contest is an activity that brings families together and it's a positive message. Not only did we decorate, but we talked to our children about how important it is for them to stay away from drugs. We discussed what to do if they are ever in the position where they are offered drugs."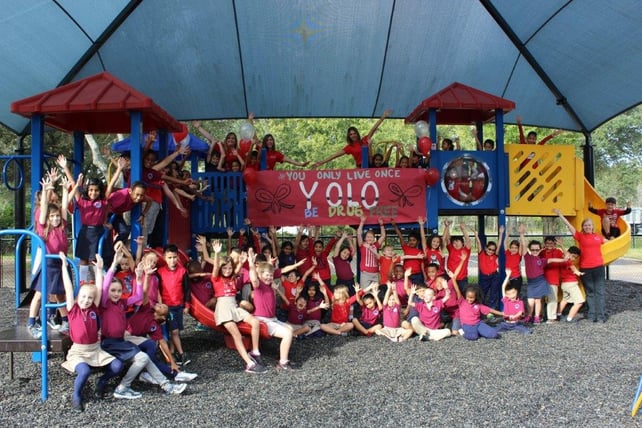 Red Ribbon Week began in 1985 after the abduction and murder of DEA Agent Enrique "Kiki" Camarena. The first ever National Red Ribbon Week was organized by the National Family Partnership in 1988. NFP continues to sponsor the campaign for families, schools and communities across the nation each year. Informed Families/The Florida Family Partnership is the Florida Sponsor of the Red Ribbon Campaign. Since its inception, the campaign has touched millions of lives to promote and celebrate drug free living.
"Red Ribbon Week is one of the most exciting and fun weeks of the entire school year," said Paola Stauffer. "If you ask the students what their favorite week is, they always say 'Red Ribbon.' We decided to enter the contest because we liked the challenge and we knew it was a way to get the families involved and pass on the drug prevention message. Everyone participated."
The two contest winners competed against 43 Florida schools and 19 Florida families during the contest, which began October 1st and ended on November 17th. The money the schools will receive will be used to further drug prevention.

"The contest allowed our students to see how working together can help promote a great cause," said Orlando Science Elementary Principal Michael Singleton. "Our plan is to reinvest the prize money back into next year's Red Ribbon Week and into our character education program."
An estimated 80 million people celebrate Red Ribbon Week each year. The contest helps unite parents and schools in helping kids grow up safe, healthy and drug free.
"We designed the contest to involve families, schools, and communities in delivering the drug prevention message to children while promoting a healthy and drug-free lifestyle," said NFP President and Informed Families' President & CEO Peggy Sapp. "We are so impressed by the winners and their wonderful stories about spreading the Red Ribbon message in their homes, schools and communities."
Most of all, the Florida Red RIbbon Photo Contest was fun.

"This was a great experience for everyone involved," said Clara I. Cabrera, Principal of Good Shepherd Catholic School. "Drug prevention is so important to create awareness. I like the school spirit and the enthusiasm the community experiences during Red Ribbon Week. I'm so excited and proud."
For more information about Red Ribbon Week, visit www.flredribbon.com.