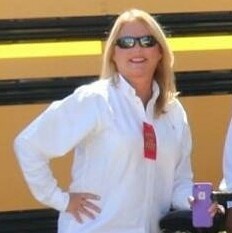 Parents at Freeport Middle School generally respond to Informed Families Ambassador and All Star Safe Healthy & Drug Free School winner Laura Estes quite positively. Not to anyone's surprise, the majority of parents are very appreciative of her dedication to the health and well-being of her students, demonstrated by her delivery of year-round prevention programs.
"One mom told me she was walking by her daughter's room and heard her daughter say, 'no, we can never get involved with anything like that because you remember what Ms. Estes said,'" said Laura. "I love to hear stories like that or run into former students who tell me that they never tried drugs after going through my program."
However, not all responses are immediately positive, especially among parents who are smokers or heavy drinkers.
"One parent who smoked cigarettes said, 'if I have to hear about the harmful effects of tobacco products one more time, I'm going to strangle you,'" said Estes, with a smile. "Several of my students have inspired their own parents to break out of bad habits. They tell me all the time, 'my mom hasn't had a cigarette in three weeks' or 'my dad isn't drinking as much anymore.'"
Thanks to Ms. Estes' outstanding efforts as an Informed Families Ambassador, Freeport Middle School was recognized as an Informed Families All Star Safe, Healthy & Drug Free School for the second year in a row. Estes was selected among hundreds of Ambassadors and schools participating in Informed Families' Ambassador Program for her demonstrated dedication to year-round prevention activities and for her success in actively engaging students, parents and faculty in prevention.
Technically, Laura Estes isn't employed by Freeport Middle School; rather, through her employer, COPE Center, of the Chautauqua Offices of Psychotherapy and Evaluation, Inc., Laura is able to provide prevention support to the school. The school provides the office space and access to work with the students and Ms. Estes takes care of the rest.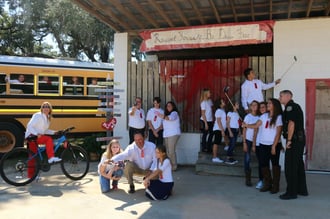 In addition to promoting the school-wide year-round Universal prevention campaigns, Family Day, Red Ribbon Week, Lock Your Meds and Safe Homes Smart Parties, to students and parents at the school, Ms. Estes meets with each of the school's 120 sixth grade student at least once a week for the entire school year.
"I love Informed Families' materials," said Laura. "We don't have the budget to be able to create materials on our own and they enable me to reinforce the healthy messages I share with students, year-round, while also reaching out to the parents to get them involved. I get so excited when I receive my campaign materials!"
Laura says many of the parents at the school aren't aware that drug use can start as early as late elementary or middle school, so they put off having important, ongoing conversations about alcohol and other drugs with their children until late high school or college. She aims to reach parents early on and inspire them to work with other parents to keep their children safe.
Estes regularly goes above and beyond the call of duty. She's even been known to chaperone school trips to send a clear message to her students.
"I went to Busch Gardens with the 8th graders," said Estes. "I love showing them the fun things you can do without drugs and alcohol. Anti-drugs does not mean anti-fun. You can still have a good time."
While she realizes that she cannot prevent every child she works with from getting into drugs, Estes says she works extra hard to reach out to children with unhealthy home environments and provide them with constant healthy messages to help counteract "positive messages towards alcohol and tobacco" from their homes.
"Students remember me years after being at the school," says Estes. "They call me the 'drug lady,' but they really mean the "anti-drug lady."
Whatever they call her, we know that Laura Estes is a gift to the students in Walton County and we look forward to working together for years to come to help Freeport Middle School students grow up safe, healthy and drug free.
Join Laura Estes and make a difference in YOUR community.