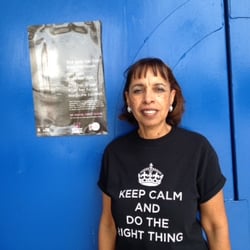 Spend two minutes with Sonia Ambrose and you will instantly sense her unlimited passion for helping students thrive in school and in life.
"I find my job to be very rewarding," said Ambrose. "I love being a school counselor and helping children succeed."
As a counselor at Irving & Beatrice Peskoe K-8 Center in Homestead, Sonia offers students support, helps them build skills and works to resolve issues, all with the goal of helping them blossom to reach their full potential. Among the tools she uses to accomplish this goal are the materials given to her by Informed Families as part of the Ambassador Program.
"I was delighted to learn about the Ambassador Program last year at a county-wide training session with other school counselors," said Ambrose. "I am always looking for great programs to help our students and families, so I immediately signed up."
Ambrose works with a handful of peer counseling students to help deliver important prevention information to their peers and parents at the school. So far this year, the students have promoted Family Day, Red Ribbon Week, Lock Your Meds and will soon be communicating to students and parents about underage drinking and social hosting through the Safe Homes Smart Parties campaign.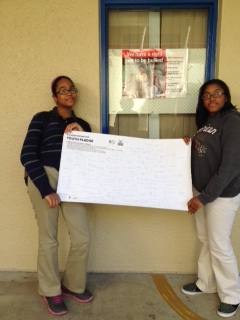 "Drug prevention is important to me because substance abuse is a no-win situation, which creates havoc," said Ambrose. "The problem is detrimental to society as a whole and I do anything I can to prevent my students from getting involved with drugs."
Most recently, Sonia earned a $100 Publix gift card as a reward for her extraordinary work on the Lock Your Meds campaign, for which she organized a school-wide pledge contest, encouraging parents to promise to secure and take regular inventory of their medication to prevent prescription drug abuse.
No stranger to service, Ambrose also dedicates her time to sending care packages to deployed soldiers through an organization she and her husband created, Thinking of You Services, Inc.
Informed Families is proud to recognize Sonia Ambrose for outstanding efforts as an Informed Families Ambassador and her dedication to helping kids grow up safe, healthy and drug free. We look forward to working together to help children reach their full potential for many years to come.
Join Sonia Ambrose and make a difference in your community.