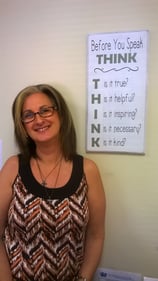 Vicki Kress, this month's Star Ambassador, discovered Informed Families' Ambassador Program one day while searching for Lock Your Meds campaign resources. Familiar with the work of Informed Families, she was delighted to learn that the organization offers free year-round campaign materials provided to schools and organizations across Florida. She wasted no time and signed up right away to bring the four campaigns to Volusia and Flagler Counties.
"Environmental strategies, like the four universal campaigns, are extremely effective, as long as they are consistent, informative, eye catching and the whole community takes them on and makes them a priority," says Kress. "Informed Families helps to provide the consistency that's required – and we at Stewart-Marchman-Act Beahvioral Healthcare (SMA) have the capacity and drive to get everyone on the same page in our community."
Kress serves as the Regional Prevention Director at SMA, which provides behavioral health care services to approximately 25,000 individuals each year, who are living with addiction, mental illness or both in Volusia, Flagler, St. Johns and Putnam Counties. SMA offers residential treatment for substance abuse and mental health in each of those counties. In her role, Kress focuses on the organization's prevention services to families and schools throughout Volusia and Flagler County.
"I like how Informed Families' materials are presented," said Kress. "They are simple, easy to follow and each campaign offers one concise point. Everything is laid out for us and the whole toolkit for each campaign makes it easy for us to deliver."
Beyond delivering the campaign through SMA's programs at their facilities and outreach in schools, Vicki wanted to reach an even broader audience by connected with local school systems. Kress reached out to her contact who oversees all of the school counselors in Volusia County and opened the door for counselors to sign up to be Ambassadors. Over a dozen schools have signed up so far. Kress' goal is to create a local network of Informed Families Ambassadors and continue to communicate with them to keep the excitement and participation high at a local level. Ultimately, the goal is to have all the schools in Volusia County onboard.
In addition to incorporating Informed Families' science-based curriculum, SMA uses evidenced based programs such as the Alcohol Literacy Program, developed by long-time friend of Informed Families Dr. Peter DeBenedittis. The Alcohol Literacy Program teaches youth that changes students' beliefs about the effects of alcohol and reduces the quantity and frequency of alcohol use.
Kress, a mother of a 20-year-old daughter, passionately dedicates herself to do helping to prevent young people in her community and beyond from developing an alcohol or drug problem.
"Drug prevention is so important," said Kress. "I got involved with some of that as an adolescent and it really distorted my youth. Thankfully, at age 23, I had a spiritual experience and that got me on the right path. Nobody ever talked to me about drugs and alcohol when I was a child. If they had, who knows? I know that doses of prevention are extremely effective and helpful. I think young people are smart and if given the right information, they can make better choices."
Thank you, Vicki for your commitment to preventing addiction and for your outstanding leadership in your community. We look forward to continuing to work together to help kids grow up safe, healthy and drug free for many years to come.
Join Vicki Kress and make a difference in YOUR community.