One positive outcome of the pandemic has been that families have been forced by circumstances to spend more time together. No more rushing out the door to play practice in one direction and violin lessons in the other. No more late nights at the office, grabbing a quick fast-food dinner on the way home.
This, along with the newfound interest in home cooking in recent months, has meant more meals together as a family, which means more opportunities to sit down and talk with each other. Leisurely conversations around the table not only build stronger family relationships, but also encourage more in-depth communication.
It also offers an opportunity for parents to reinforce family values, providing the solid foundation young people need to help them make better choices when it comes to alcohol and drug use.
This is why Informed Families has developed a 52-week family activity kit to help families get started on this important path to lifelong healthy choices.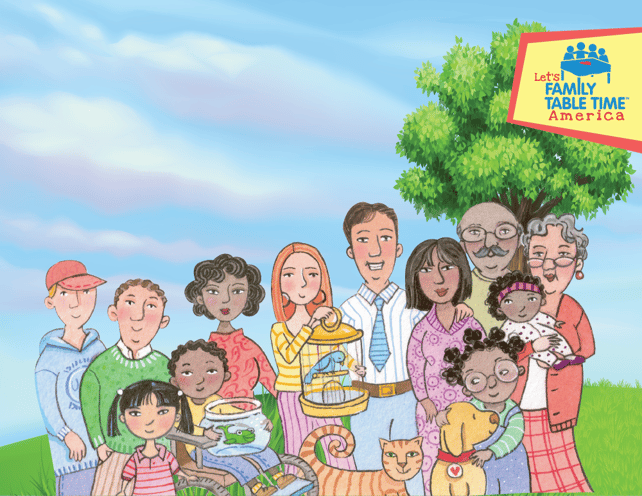 Here's what you get in each kit:
an agenda for family meetings, which provides a detailed plan for conducting family meetings;
character-based conversation starters to help explore each week's topic in depth;
quick, easy, and healthy family recipes; and,
suggestions for fun physical activities families can do together.
Conversation starters include such varied topics as community service, gratitude, cyber safety, bullies and violence, money management, listening skills, goal setting, and more.
So why not start this new and valuable family tradition today? Sign up now to receive your first kit and each week you'll receive colorful and engaging Family Table Time materials specially designed to nurture communication and bring your family closer.
In addition, when you sign up for a six-month subscription, we'll also give a free six-month subscription to an essential worker's family, our way of saying thanks to them for putting their health on the line to keep our society functioning.

If you want to try Family Table Time before committing, you can receive a FREE four-week subscription. So why wait? Try it today, and see how quickly your family's togetherness improves as a result.