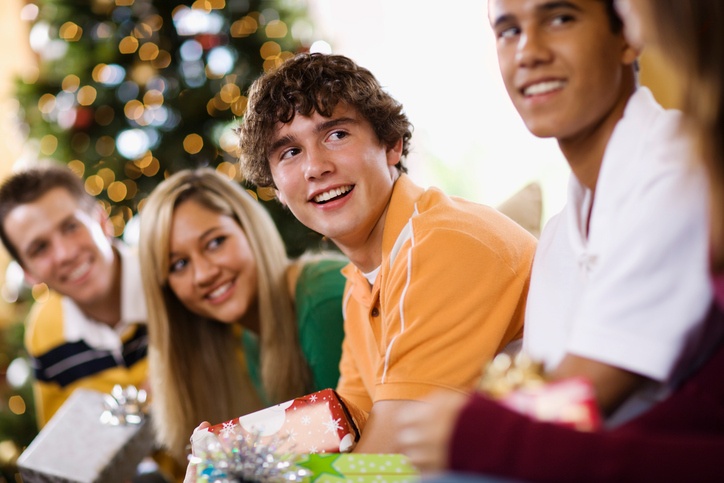 The end of the year is a festive time for families. School is closed. Holidays are celebrated. Presents are exchanged. Parties are thrown.
Unfortunately, at those parties—especially unsupervised New Year's Eve parties—teens may be tempted to drink or use drugs. And though kids hunkered down at one party might be preferable to kids driving from house to house on New Year's Eve, any time that teens have access to alcohol, there will be risk. Establishing and enforcing family rules in regards to drinking is important year-round but takes on added urgency in December. Here is some advice for setting those rules and keeping your kids safe for the rest of 2016 and beyond:
Set Clear Expectations
The family rules you set for your children for holiday parties must be clear and non-negotiable: No drinking, no drugs and no getting into a car with someone who has been drinking or using. This is a message you can emphasize all year—and ongoing communication is critical in reinforcing your message without making it seem like a one-time decree—but again, should be reiterated during the holidays when kids aren't in school and may end up around more alcohol.
Organize with Other Parents
Holiday parties that teens might attend generally fall into two categories: family and grown-up parties that parents throw and take their kids to, and parties thrown by the teens themselves. If your kids want to attend the latter, talk with other parents to see what the party entails, if it will be supervised and what steps the hosts will take to ensure a safe and healthy environment. Without supervision, New Year's Eve parties can easily be overrun with alcohol; even parties in which the parents are home can get wild if booze is permitted. Communicate with host parents to see what their expectations are for the party, what the invite list will be and how your teen will get home. Organizing such a party or a similar community event (such as a lock-in) with other families can help ensure an alcohol-free experience in which kids will be safe.
Rules for Hosting
Are you brave enough let your kids host their own holiday party? Family rules must apply to your guests. You can make that clear when they walk in the door. Be prepared for the rules to possibly be updated to reflect the increased chaos that naturally accompanies a party. First and foremost, no alcohol whatsoever. Some parents think if teens are drinking in a controlled environment, it's OK, but it's still unsafe and illegal. Keep your home's alcohol out of reach and lock the medicine cabinet. Second, insist upon a set guest list and contact the parents of those guests about the party and your expectations. Finally, don't hover—your kids may not want you playing board games with them—but don't totally disappear, either; make enough appearances to show you trust your kids, but are also supervising.
Plan Fun Activities for All
If you are throwing or attending a holiday party for adults and children, make sure activities are available for the teenagers. Younger kids usually find something to do while the grownups socialize, but teens can easily get bored. Their solution to this might be sneaking booze into the garage or backyard and getting drunk on their own. Plan activities for teens so they don't become bored. And if it's New Year's Eve, consider skipping the combined party and doing something as a family instead. Plenty of communities host alcohol-free parties and events that appeal to families. Your kids won't be kids for long—enjoy ringing in the New Year with them while you can.
Set a Good Example
One reason teens feel they need to get drunk during holiday parties is because they see their parents and other adults do so at this time of year. Set a good example by not getting loaded in front of your kids. Social drinking is an adult activity (and stress to your children that this is what adults sometimes do, not kids), but inebriation to the point of embarrassment goes beyond being social and sends the wrong message to teens. Two other considerations in setting a good example this holiday season include:
Don't spike the eggnog. It's too easy for kids to get a cup (particularly if there's non-spiked egg nog as well) and be drinking alcohol without adults even realizing that it's happening.
Some parents will let their kids drink sparkling cider out of champagne glasses at midnight on New Year's Eve. Though there's no alcohol in sparkling cider, this still sends a message that drinking is equated with fun. Start a new family tradition to ring in the new year -- sing a song, chant a family cheer or take a family selfie!
What family rules do you set for holiday parties?