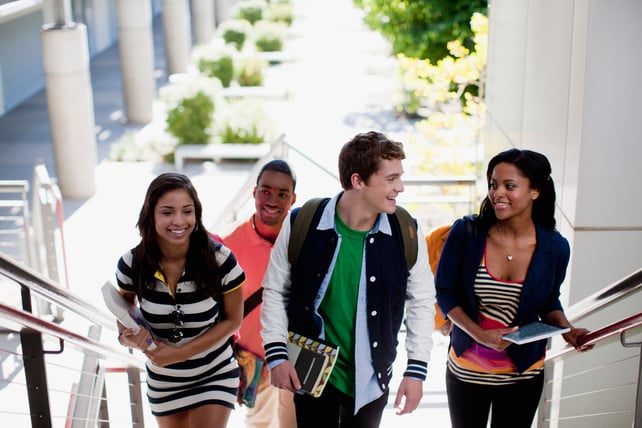 Another school year has concluded in Florida - and students around the state are graduating high school or moving on to the next grade. The end of the school year also means something else near and dear to Informed Families: the selection of the All Star Schools.
What a year 2016-17 was for us! We bestowed All Star status upon 16 schools and organizations. Moreover, we worked with schools in all 67 counties across the state to implement anti-drug and anti-alcohol campaigns and provide information to help teens makes smart choices and stay safe.
All Star Requirements
Plenty of schools launch initiatives to curb teen drug and alcohol use, and their efforts—any efforts that protect students—are commendable. All Star Schools take these initiatives to the next level by successfully participating in all four of the campaigns that Informed Families sponsors. The campaigns are:
Family Day: challenging families to enjoy a dinner together—a family-strengthening activity that is shown to decrease the likelihood children will engage in risky behaviors
Red Ribbon Week: the oldest and largest drug prevention program in the U.S.
Lock Your Meds: emphasizing the importance of keeping powerful prescription drugs out of the reach of teens
Safe Homes, Smart Parties: an effort aimed at keeping high school parties safe and substance-free
The 2017 All Stars
Informed Families is proud to announce the following schools and organizations as 2017 All Stars:
Merritt Island High School; ambassador Elizabeth Vance, principal Mollie Vega
Coral Glades High School (Coral Springs); ambassador Toni Freeborn, principal Steven G. Carruth
McArthur Elementary School (Pensacola); ambassador Tori Woods, principal Tama Vaughn
Pine Meadow Elementary School (Pensacola); ambassador Chelsea Windham, principal Terri Fina
Grand Ridge School; ambassador Barbara Melvin, principal Laura Kent
Kaley-Lake Como Elementary School (Orlando); ambassador Marquita Outlaw, principal Isolda Antonio Fisher
Olympia High School (Orlando); ambassador Molly Sidwell, principal Guy Swenson
Freedom Middle School (Orlando); ambassador Carol Swanburg, principal Cheri Godek
Athenian Academy (Clearwater); ambassador Heather Smith-Levin, principal Kathy Hershelman
Freeport Middle School; ambassador Laura Estes, principal Joshua Harrison
Norland Elementary (Miami); ambassador Maria Chandon, principal Dr. Christina Ravelo
Collier County Public Schools; county ambassador Tracy Bowen
Keller Intermediate Schools; ambassador Anne Lewis, principal David Davis
LaBelle High School SADD/SWAT; ambassador Augusta Ross, principal David Kelly
Community Housing Partners (Marion County); ambassador Diane McElveen
Sumter Community Action Partnership; ambassador Rozanne Grady
What Our All Star Ambassadors Are Saying
Informed Families' All Star ambassadors are making a difference in the lives of students and the greater community. These individuals offer poignant insight into the challenges they face and the experience of working with Informed Families. Here are some of the things they had to say:

"The best thing about being an Informed Families ambassador is being able to receive the wonderful information about each of your campaigns and how to implement them into our community. I feel that by serving as ambassadors for Informed Families, we can make great changes in our communities to help promote a safe, substance-free, healthy community for all our residents."
Rozanne Grady, Sumter Community Action Partners (CAP) coordinator
"All of the materials needed to bring awareness to these important issues are provided to us by Informed Families. It makes my job as a SADD club sponsor so much easier."
Elizabeth Vance, math teacher and SADD coordinator, Merritt Island High School
"Drug prevention is so important to instill early on in kids. It is important for them to understand the dangers and risks and to know ways to keep themselves healthy and safe."
Chelsea Windham, guidance counselor, Pine Meadow Elementary

"I love all the campaigns from your organization. I have been working in prevention for 30 years, and your resources have breathed new life into my programs and have made a big impact on my kids, especially in making smarter decisions. Thank you for ALL that you do."
Anne Lewis, Keller Intermediate Schools
"I truly appreciate the Informed Families campaigns. It is something I have no problem incorporating into my centers' everyday routine."
Diane McElveen, Community Housing Partners
"...I'm helping students and changing their lives for the better. I love that my student ambassadors learn and teach their peers. They are empowered and respected, so their peers listen, probably more so than if I am teaching it."
Molly Sidwell, SAFE Coordinator, Olympia High School

"My favorite campaign is Family Day because I think it is imperative that families have that quality time spent together at the dinner table. There is so much that can be discussed and reinforced during this special time. With families bustling days and hectic after-school schedules, coming together at dinner time can reduce stress, alcohol and drug use."
Maria Chandon, counselor, Norland Elementary School
Looking to 2018
The 2017-18 school year is only a few months away. As much success as we have enjoyed with our All Star Schools and all the organizations that have participated in our campaigns this year, we aim to be even more successful next year. Florida teens deserve no less.
Do you want to see your school on this list for next year? Explore our website to learn more about becoming an Informed Families ambassador or if you're already an ambassador, order your 2017-2018 materials now!