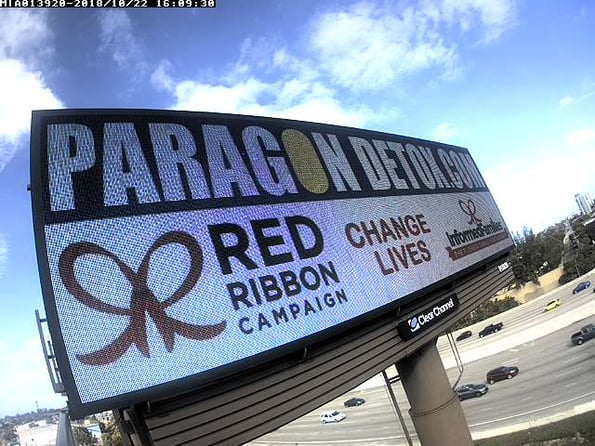 When Steven Poster, President of Paragon Residential Detox Center in West Palm Beach, called Informed Families' offices requesting permission to promote drug prevention during Red Ribbon Week on a digital billboard on I-95, our response was an immediate, "YES!"
Red Ribbon Week is all about awareness and sending a message in communities about the importance of drug free living. Not many people, other than individuals and families who have been touched by addiction, are as familiar with the absolute devastation and destruction caused by addiction than individuals who work in Detox centers like Paragon.
Palm Beach County is no stranger to addiction. According to the Palm Beach Post, a recent report showed that fentanyl and other opioids were responsible for 254 deaths in Palm Beach County in the first half of 2017, which is about the same as the number of deaths in the county between 2009 and 2015.
"Drug prevention is so important because addiction destroys," said Steven Poster. "Red Ribbon Week is a great 'Call to Action' in solidarity. We believe in seizing all positive opportunities to form strong alliances with organizations that lead in all aspects of addiction, surround the education, preventative courses & measures - and the eventual eradication of the Addiction Epidemic."
Informed Families is grateful to Steven and the Paragon team for their partnership in getting the message out about Red Ribbon Week. If you happen to see the billboard, send us a note and let us know what you think.