It is with great sadness that I share this message, Mary Eaton died unexpectedly from a fall on New Year's Day. As you know Mary was an angel among us, her smile lit up the room, and her good heart made us all want to be better people.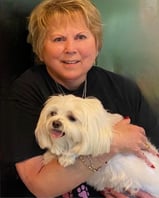 As one of the original Informed Families' Board members and later Informed Families' Board of Trustees Chairman, her meetings always had candy and fun decorations to help us deliberate serious discussions.

As one of the Founding Members of Informed Families' Joe's Stone Crab dinner, Mary was the sweetest arm twister for getting people to sponsor tables at the event. Who could say no to Mary?

Mary loved Informed Families and we loved her back, we will feel her loss and miss her forever.

Our sincere sympathy to Joel, Mary's husband of 54 years, her three sons, their wives, and grandchildren Doug and Molly (Jack and Grace), Darryl and Isa (Samuel, Otis, Story Bird), David and Erin (Cylar), and her sisters Anita Young and Barbara Taylor. Mary had a large extended family and she loved each and every one of them dearly.
We are grateful for each day we shared with Mary,
Peggy
The Eaton family has designated Informed Families as one of their preferred charities for donations. We have a special donation page set up, here.