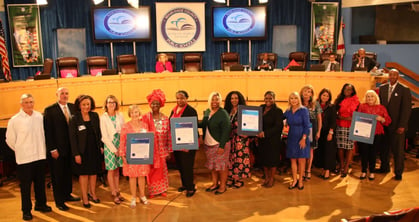 Informed Families newly-designated 2019 Red Ribbon Certified Schools include: Brownsville, Citrus Grove and Homestead Middle Schools in Miami-Dade County, FL; West Orange and Cypress Creek High Schools in Orange County, FL; and North Atlanta High School in Fulton County, GA.
The Red Ribbon Certified Schools in both Miami-Dade and Orange Counties received special recognition during the October School Board meetings in their respective counties.
School Board member Dr. Lawrence Feldman issued a proclamation recognizing Informed Families for helping children grow up safe, healthy and drug-free through initiatives such as Red Ribbon Week. He also congratulated Brownsville, Citrus Grove, and Homestead Middle Schools for being named 2019 Red Ribbon Certified Schools.
In Orange County, Informed Families Program Director Christine Stilwell was invited to recognize Cypress Creek and West Orange High Schools on becoming Red Ribbon Certified at the School Board meeting. Informed Families Prevention Consultant Sharon Warner presented the schools with a Red Ribbon Certified School flag and a plaque.
North Atlanta High School is the first school in the state of Georgia to become Red Ribbon Certified. The school plans to celebrate the recognition during Red Ribbon Week.
Becoming a Red Ribbon Certified School is a distinguished achievement shared with less than 100 schools nationwide. The award celebrates their success in the following four areas (independently evaluated by the UCF Institute for Social and Behavioral Sciences at University of Central Florida): school environment, best practices in education, parent engagement and substance abuse prevention activities.