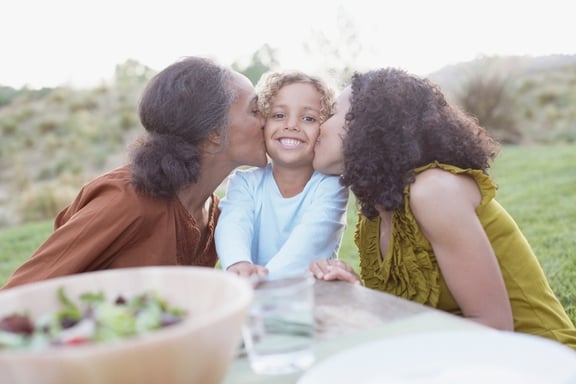 Family Day is a national effort aimed at promoting family dinners and building healthy kids. Set for Sept. 26 this year, Family Day emphasizes the value of sitting down and enjoying a meal with your children. The benefits go beyond basic sustenance, reaching into something much deeper: Teens who regularly eat dinner with their families are less likely to engage in risky behaviors. Here's a deeper look at the value of Family Day and how this simple effort can lead to healthy kids:
Family Dinners, Healthier Kids
The prospect that family dinner ultimately results in healthier kids might seem odd, but research backs up this concept. One study conducted by Columbia University discovered that teens who had frequent dinners (more than five times a week) with their parents were more likely to have excellent relationships with them than those families whose dinners were infrequent (fewer than twice a week). Subsequently, the better the relationship kids have with their parents, the less likely they were to use drugs, alcohol, and tobacco.
A Chance to Interact Amid Busy Schedules
Communication between parents and teens is already tricky because, well, teens are teens. However, the crazy lives that families in 2016 lead often contribute to this communication gap. Parents and teens have difficulty finding much time to sit down together and interact in this busy world, which is unfortunate because kids need parental interaction and guidance at this age perhaps more than at any other time of their lives. Screen-free (no TV, no checking smartphones—that includes parents) family dinners are a means to carve a little time to communicate. Take advantage of this opportunity to engage your children. Ask open-ended questions to get the conversation going, and be sure to share your own answers. Some conversation starters could include:
What is the best thing that happened to you, and why?
What is the funniest thing you saw today?
What are you most grateful for today?
What is the last dream you remembered?
What would you like to do this weekend?
These are simple questions but get you talking; whether they lead to deeper conversation or more light-hearted interaction, communication occurs and trust is built and strengthened.
Collaborative Dinners
Though going out to eat or picking up dinner is better than nothing, cooking a meal at home and involving your kids in the preparation adds another dimension to Family Day. Besides being another opportunity for communication, collaborating on dinners further strengthens the bond between you and your children. There will be times when your teens must trust you and know you will work with them to solve problems. Preparing a meal together provides a mutual goal, and remember, it's the journey, not the destination—if you tried something new for dinner and it doesn't quite taste the way you hoped, you at least have a good story about how you and your family tried to make a casserole and ended up with soup.
Make Family Dinner A Habit
Although Family Day is just one day and one meal, it's also meant to hopefully be a jumpstart to more family meals and more interaction. Look at your schedule for opportunities to eat dinner together. Often, those times exist, but parents get so busy that they don't even consider sitting at the table for a meal, content to let the kids plop in front of the TV with their dinner plates while we do something else. Make the effort to look for these opportunities. Plan a pizza-and-board game night, which offers more hours of interaction and something you all can look forward to. And if family dinners don't always work, try family breakfasts or lunches on weekdays and weekends—pancakes and bacon on a Sunday morning will definitely bring your kids to the table!
Informed Families is sponsoring Family Day in Florida, which, again, is set for Sept. 26. Visit our website for more information, and be part of our Family Day photo contest in which you snap a picture of your family enjoying dinner. Post that photo to social media and you will be eligible to win one of three $100 Publix gift cards.
How often does your family eat meals together in a typical week?