Finally, some good news in the fight for drug sanity: Earlier this month, Oklahoma voters resoundingly rejected a ballot initiative to legalize recreational marijuana use. With nearly all the precincts reporting, the vote was 62 percent opposed and 38 percent in favor of the measure.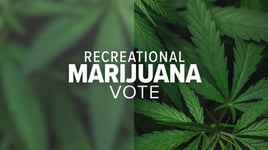 Oklahoma would have become the 22nd state to legalize the adult use of cannabis.
"We're pleased the voters have spoken," Pat McFerron, a Republican political strategist who ran the opposition campaign, said in a statement.
"We also think it shows voters recognize the criminal aspects, as well as the need for addressing mental health needs of the state," he added.
Not Alone
The opposition included Republican Gov. Kevin Stitt and U.S. Senator James Lankford, along with many of the state's GOP legislators.
Stitt was jubilant.
"I believe this is the best thing to keep our kids safe and for our state as a whole," he said when the results were announced.
"I remain committed to protecting Oklahomans and my administration will continue to hold bad actors accountable and crack down on illegal marijuana operations," he added.
Oklahoma isn't the only state to reject the recreational use of cannabis: last year North and South Dakota and Arkansas were among the states that have also said no.
Keeping Up the Fight
Although this is good news, we still have a long way to go to stop the tide of legalization flowing across the country.
This was only a partial victory in Oklahoma, as the state legalized marijuana for medical use in 2018. As a result, it has nearly 3,000 medical dispensaries licensed in the state.
"We think this [vote] sends a clear signal that voters are not happy with the recreational nature of our medicinal system," McFerron said.
As we've reported before, having marijuana within easy reach has been shown to increase its use among young people.
The American Academy of Pediatrics (AAP), for example, reported on one study showing that eighth-grade students from schools located within five miles of a medical marijuana dispensary were more likely to have recently used marijuana compared with those from schools located farther from dispensaries.
And here in Florida, we continue the battle to prevent the legalization of recreational marijuana. So while the Oklahoma news is good, we must keep up the fight.