According to the National Center for Educational Statistics, one in every five students reports being bullied at school. It happens to all races, sexes, income levels, and grade levels, according to the center's findings.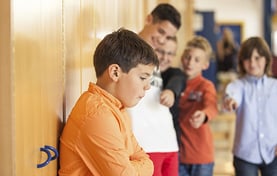 Bullying takes many forms, from being made fun of, being the subject of rumors, being pushed, shoved, or threatened with harm, and being excluded from activities on purpose.
Serious Consequences
The results of being bullied can be damaging, including depression, low self-esteem, health problems, even school shootings, and suicide.
"We know that victims of bullying can experience negative impacts across all domains of their lives," Amanda McGough, a clinical psychologist who works with teenagers and adults and also sits on the American Foundation for Suicide Prevention as the North Carolina chapter president, told CNN recently.
"It infringes upon their mental, emotional, physical, social, and academic functioning," she said. "This may look like low self-esteem, depression, isolation, physical complaints like headaches or stomachaches, or avoiding going to school."
Social Media's Role
These days, bullying doesn't stop at the school door, either.
"Before social media, there might have been an unpleasant interaction at school and that's mostly where it stops," Nikki Pagano, a licensed clinical social worker in Charlotte, North Carolina, told CNN via email.
"Now that interaction carries over to home and is inescapable," she explained. "Instead of one person making you feel bad, there may be something posted online and peers may be seeing or even 'liking' this post."
What To Do
Talk to your children now about bullying—what it is, who does it, and why—so they'll be prepared if it happens to them. Let them know they should tell you if they become the victim of a bully.
If you suspect your child is being bullied in person, teach them how to respond:
Calmly tell the bully to stop, then walk away.
Don't let the bully see they're upsetting you.
Avoid the bully and never be alone with them.
Tell an adult what's going on.
If the situation becomes serious, keep any evidence of it, such as a record of incidents, damaged or missing possessions, screenshots of cyberbullying, etc.
Contact the school and report it and follow up to see what steps the school has taken. If the bullying includes physical harm or threats of violence, sexual violence, or sexually explicit images, call the police.
The U.S. Department of Health and Human Services (HHS) website here as more information on what parents can do to stop bullying.