A 2016 survey found that about 10 million Americans vaped regularly. Nearly half of those were under the age of 35, with 18-24-year-olds the most frequent users. In 2018, over three million high school students and 570,000 middle school students reported they were using e-cigarettes, according to the CDC. And the trend is rising: In 2021, the Centers for Disease Control and Prevention (CDC) reported that one in nine high school students said they had vaped in the past month.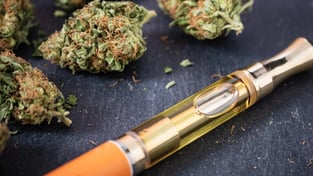 Not safe at all
Now a new study suggests that teens who use e-cigarettes are over three times more likely to go on to use marijuana than those who don't.
The study, published last month in the journal JAMA Network Open, showed that adolescents who had never used marijuana at the beginning of the study were 3.2 times more likely to use cannabis if they also reported vaping nicotine products in the previous year.

Young people may think that vaping is the safer way to consume marijuana. Still, according to the non-profit group Partnership to End Addiction, "one of the ingredients present in many marijuana vapes has been liked to a wave of illnesses and deaths impacting people of all ages across the U.S."
Teens and marijuana
In addition, according to the CDC, "Unlike adults, the teen brain is actively developing and often will not be fully developed until the mid-20s. Marijuana use during this period may harm the developing teen brain."
Among the negative effects of marijuana use for this age group are:
difficulty thinking and problem solving
problems with memory and learning
impaired driving
and the potential for addiction

Even without the added danger of vaping marijuana, studies have shown that nicotine use among adolescents can impair brain development, memory, and learning, permanently alter brain chemistry, and damage the lungs.
Spot the signs
It can be hard to tell whether your teen is vaping marijuana because there's usually no telltale odor, but physical signs include:
bloodshot eyes
increased appetite
changes in behavior and mood
changes in friends
loss of interest in previously enjoyable activities

If you suspect your teen is vaping, whether nicotine or marijuana, the best approach is to talk to your kids, reasonably, and often, calmly presenting the facts.