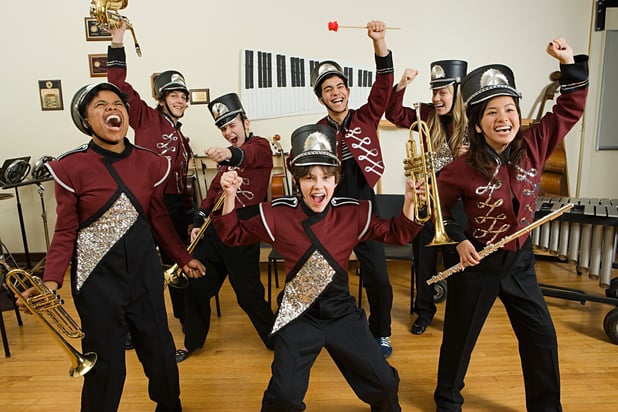 What is student achievement? Ask different people and you get different answers.
Some might define student achievement in purely academic terms: test scores, grades, the quality of colleges that teens attend after they graduate high school.
Others might look beyond grades to things such as varsity letters, perfect attendance or simply earning the diploma.
Still others take a different tack on student achievement: community service, successfully participating in anti-drinking or anti-bullying campaigns, organizing a safe and fun prom.
No matter how you define student achievement (and, indeed, many educators define it in multiple ways), highlighting success should be a focus in every school and every school district. Here are five reasons why:
1. Everyday achievement is often overlooked
Most schools like to highlight student achievement in the obvious areas of excellence: academics and sports. All-conference quarterbacks and 4.0 students are quick to be recognized, as they often should be. However, schools sometimes forget about the students without the perfect grades or all the touchdowns who nonetheless make their schools a better place day after day. Peer counselors, tutors, active student government members and anyone who turns negatives into positives for their classmates and communities are high achievers. Highlight their success along with the brains and jocks, because they are just as important to the school.
2. Recognition results in confidence
High school is an inherently confusing time for kids. Choices that seem so obvious to teens one day may be questioned the next. Students may wonder if the effort they are putting in toward improving their schools and helping classmates is worth it. Highlighting student achievement often eliminates this doubt and builds confidence that teens' hard work is important and is making an impact. In turn, this confidence can carry over to other facets of their young lives, including making smart choices when faced with the prospect of using drugs and alcohol.
3. Extra motivation
Highlighting student achievement is clearly a great motivator for the achievers to keep up the good work. Moreover, such recognition can also inspire other students to volunteer and excel. Students—some of whom might be reluctant to get involved—see what their peers are accomplishing and want to learn what they can do. As these new achievers become more active and their success is highlighted, more students are inspired and want to help—and so on. Sometimes, it only takes a little spark for teens to step up. Highlight enough little sparks and you can start a roaring bonfire of student achievement.
4. A stronger school and community
When you highlight student achievement, you present the best of your students, whether they are excelling academically, athletically, in service to the community or in looking out for one another. As this inspires more students to excel, their achievements ultimately makes your school becomes stronger. In turn, the community at large recognizes and is inspired by your students' excellence and wants to do its part to help. Just like highlighting success can build upon itself within the school, recognizing your student leaders also starts something that can strengthen the overall community.
5. A positive message for teachers
Many teachers in 2017 understandably feel a bit embattled. So much emphasis has been placed on test scores that teachers are sometimes not recognized for the good they do and the connections they make on a student level. The best teachers impact kids' lives long after those kids have graduated. Highlighting student achievement helps renew teachers' faith in their jobs by reminding them that they do make a difference. Whether they are spearheading anti-drug campaigns within schools or just offering advice, so many teachers enhance their communities. Student success is also teacher success—remember that when you highlight achievement in your school.
How do you highlight student achievement at your school?