A new year...a new you. While you are considering your New Years resolutions, consider this: Prescription drug abuse is one of the biggest epidemics in the 21st century. Home medicine cabinets are filling up faster than ever, putting young children and teenagers in harm's way. Start the new year off right and resolve to make a difference in your home or community by starting the new year off right with these five tools.

Everything you need to know about why you should care about prescription drug abuse is in this download, complete with trends among teens, slang terms used by abusers and steps you can take to secure your medicines. The Meducation Guide is a quick way to educate yourself.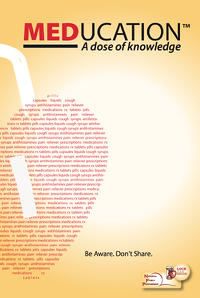 Knowledge is power and the more you know, the better off your your children and the children in your lives can be. Read these seven quick tips to keep your family safe from prescription drug abuse.
The majority of abused prescription medication is accessed by family and friends. Before the new year begins, take inventory of all your medication with this easy-to-use inventory card. Then, take inventory regularly to be sure that nothing is missing.
If your children were using slang terms to describe drugs, would you want to know? Learn some of the common terms being used so you can more easily detect abuse in your home.

Lock Your Meds Ambassador Toolkit
The ultimate prescription drug prevention tool you can possibly have is the Lock Your Meds toolkit exclusively available to our Informed Families Ambassadors. You can get the FREE Lock Your Meds toolkit to keep your family and community safe for 2014-2015 by clicking on the link below and completing the 5 minute online training.