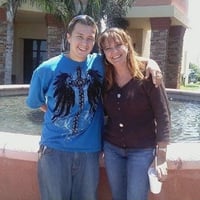 "A lot of people look at addicted individuals as people who lie, steal and hurt others," said Katie Polewski. "This was not the case with my son. He always told me the truth. I knew he was struggling when he avoided me because he couldn't lie."
While he started his journey of drug use with marijuana, on the night that he died, Katie's son Derrek was using heroin. He was ready to get sober and was attempting to wean himself off the drug to reduce withdrawal symptoms. Even though he used a tiny dose that night, the heroin contained fentanyl, which is significantly more potent and often deadly.
Katie Polewski lost her son Derrek on January 16, 2016 after a long battle with addiction.
"I believe that whether or not a child starts using drugs has a lot to do with friends they make, choices they make and not being aware of the dangers," said Polewski. "I can't express how important it is for awareness and prevention. All three of my kids were different. They had completely different personalities and they were all raised the same…with unconditional love."
When Derrek started using drugs, he always went to a friend's house over the weekends, where a mother who offered a "safe place" for the five teen boys to hang out. The mom believed that they were safer at her home, rather than roaming around the neighborhood. She felt that it was better that they weren't driving. She didn't think marijuana was harmless. The teens started with marijuana and eventually graduated to pills. Tragically, four years before Derrek passed, this mom also lost her son. Of the original five friends, only one is living today, and he still struggles with addiction.
"I don't think this mom was aware of what was actually happening," said Katie. "I also believe that had prevention materials reached me when Derrek was in middle school, I would have had some clue of what was going on. I had no idea what was out there. I am passionate about talking to parents and grandparents about this issue. Often, unless it affects them directly, parents feel they don't have to worry about it right now. I now tell them, 'unfortunately, yes you do.'"
Polewski has spent the last couple of years volunteering with Deb Comella of the Lee County Coalition for a Drug Free SWFL to support Operation Medicine Cabinet. She goes out into communities to share her story and educate individuals about what they can do to prevent prescription drug abuse in their own homes.
"Katie Polewski is amazing," said Deb Comella. "She has a passion for prevention that's unmatched. She really inspires all of us. I don't know if that happened to me if I could get up in the morning, but look at what she is doing!"
Katie has channeled her energy into creating a non-profit organization with a goal of opening up sober homes offering life skills classes and employment opportunities. She sold Derrek's home and used the proceeds to create the Derrek's Mission Foundation, knowing that he would have wanted it that way. Katie believes that people in recovery often feel like a fish out of water and often struggle with life skills. She wants individuals in recovery to feel supported, like someone is there for them.
Polewski's older daughter is 27 years old and also struggles with addiction. As a result, Katie now has custody of her 5-year-old grandson. Her youngest daughter has managed to steer clear of drug use and abuse and recently graduated with her Bachelor's Degree from the University of Central Florida. She is a Certified Behavior Analyst.
Informed Families is very grateful to Katie for sharing her story of loss and hope. We are also thrilled that Katie has signed up to be Informed Families' newest Ambassador and will be delivering our 4 campaign materials to her local elementary school.