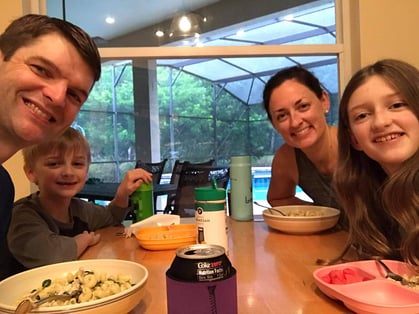 Congratulations to the winners of the Family Day Photo Contest: Lesley Adkins Stanton from Winter Springs, FL; Lauren Schere Shpigler from Orlando, FL; and Jeanette Teixeira from Miami, FL. The winners, who were randomly selected, each win a $100 Publix gift card.
Laurel Oak Elementary in Naples, FL won the grand prize for schools by having the most entries in the State of Florida. They will receive a $250 Publix gift card.
The contest was sponsored by Publix, Simply Healthcare and Seminole Prevention Coalition.
Family Day is a national effort to promote family dinners as an effective way to reduce youth substance abuse and other risky behaviors, as research by The National Center on Addiction and Substance Abuse at Columbia University consistently finds that the more often children eat dinner with their families, the less likely they are to smoke, drink or use illegal drugs.
Our contest asked families to post photos of their own family dinners on social media to help spread the message of the importance of family dinners to their friends and networks. Thank you to everyone who participated in Family Day and the Family Day photo contest.