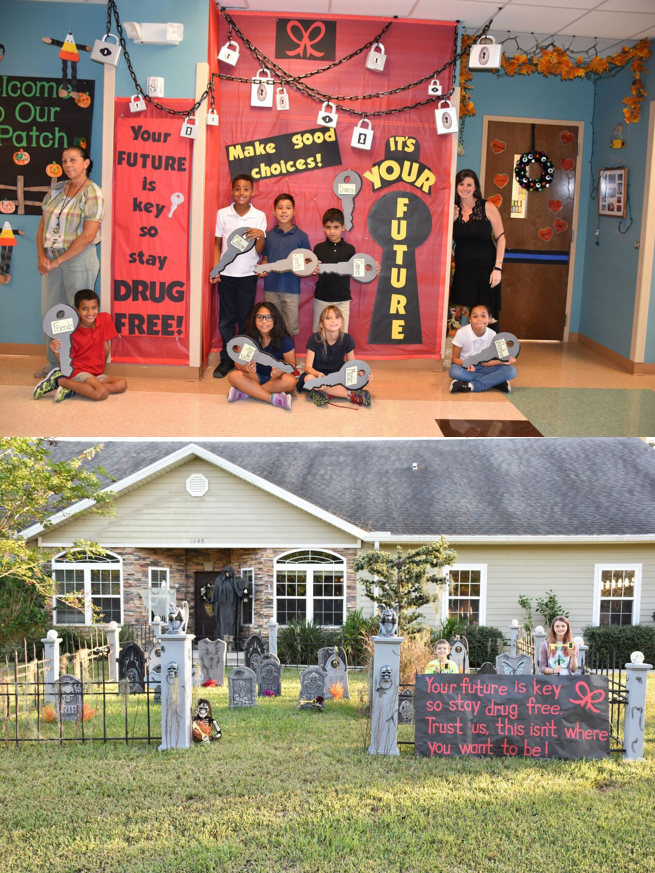 East Lake Elementary School & Sims Family Win 2017 National & Florida Red Ribbon Week Photo Contests
$2,500 Earned for Drug Prevention from NFP, Informed Families & DEA
'Tis the season for giving! East Lake Elementary School and the Sims family are the proud winners of the much-anticipated 2017 National Red Ribbon Week and Informed Families' Florida Red Ribbon Week Photo Contests. Students, faculty and staff were fearlessly led by Teacher Jean Jupa in decorating the campus with this year's theme, "Your Future Is Key, So Stay Drug Free®". At the same time, the Sims family honored the tradition of the nation's oldest drug prevention campaign by decorating the front of their home to promote their commitment to living a healthy and drug-free lifestyle during Red Ribbon Week ® (Oct. 23-31).
Jean Jupa and the Sims Family will each receive an iPad from NFP, the school will receive $500 from Informed Families for winning the Florida Red Ribbon Photo Contest and a $2,000 prize from National Red Ribbon Photo Contest co-sponsors, the Drug Enforcement Administration (DEA), to be used toward drug prevention.
"We are super excited to have extra money to put towards drug prevention next year," said Special Education teacher Jean Jupa. "I think Red Ribbon Week helps unify the school because all grades are involved. The entire school gets together. The contest was a neat way to get students interested to learn more about it instead of just telling them to 'just say no.'"
Tory Sims and his family earned $1,000 of the $2,000 prize for the school on behalf of his son, Tage who is in fourth grade, and an iPad for the family.
"This is awesome. I never win anything," said Sims. "This wasn't our first discussion on the 'don't do drugs' topic but Red Ribbon helped us to do stuff together as a family and talk about this issue of drug prevention, which opens up doors to future discussions and communications."
Red Ribbon Week began in 1985 after the abduction and murder of DEA Agent Enrique "Kiki" Camarena. The first ever National Red Ribbon Week was organized by the National Family Partnership in 1988. NFP continues to sponsor the campaign for families, schools and communities across the nation each year. Since its inception, the campaign has touched millions of lives to promote and celebrate drug-free living.
"With our nation's current opioid epidemic, drug prevention is more important than ever," says NFP President Peggy Sapp. "We designed the contest to involve families, schools, and communities in delivering drug prevention messages to children in a fun and uniting way. We are inspired by the winners and their wonderful stories."
Nationally, the contest named 20 winners – ten home entries and ten school entries in various regions throughout the nation. The money earned for winning the contest will go to support the school's drug education and prevention programs, thanks to the Drug Enforcement Administration, the contest's co-sponsors.
Close to 30,000 votes were cast in support of more than 350 contest entries. See all 2017 winning photo entries at www.redribbon.org/contest/winners.
To learn more about Red Ribbon Week and the contest, visit www.RedRibbon.org.