Three new trustees represent organizations with a long-standing commitment to prevention.

Jessi Berrin serves as Director of Development for Baptist Health South Florida, the largest not-for-profit healthcare organization in the South Florida region spanning Monroe, Miami-Dade, Broward and Palm Beach Counties. She is responsible for a comprehensive and robust development program with an emphasis on donor-driven philanthropy to support South Florida's brand new, state-of-the-art Miami Cancer Institute. Jessi graduated Magna Cum Laude from the University of Florida in May 2007, with a Bachelor's Degree in Telecommunications and an outside concentration in Business Administration. Shortly after graduating, Jessi landed a position as an Associate Producer at WPLG, Local 10 News in Miami, Florida where she wrote and produced the morning news program. In 2012, Jessi officially became a "Double Gator" by receiving a Master's in Business Administration from The University of Florida. Berrin joined the IF Board of Trustees in January.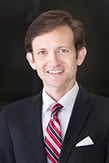 Richard DeNapoli, JD, LL.M., CFP, is Chief Trust Officer and Chief Fiduciary Counsel at Coral Gables Trust. DeNapoli has more than 15 years of experience in law and trust services. He is a native of Hollywood, Florida, and a graduate of the University of Miami School of Law (2008, LL.M., Estate Planning), Fordham Law School (2002, J.D.) and New York University (1999, B.A., Politics; B.A. Italian).
Richard's most recent experience was with Northern Trust where he was a Trust and Investment Officer for more than five years. Prior to joining Northern Trust, Richard practiced law successfully in his own practice, working with clients primarily on estate planning and real estate matters. Richard is also a longtime member of the Real Property Probate and Trust Law Section of the Florida Bar. He has been a regular contributor to several print and online publications, including "Palm Beach Society Magazine," "Miami Today," "Mansion Global," and "B2R Finance." DeNapoli joined the IF Board of Trustees in June of 2018.

Amy Ronshausen is the Executive Director of both Drug Free America Foundation, Inc. and Save Our Society From Drugs (S.O.S.), national nonprofit organizations that works to defeat drug legalization attempts, promote sound drug policies, and prevent drug use, abuse and addiction. Mrs. Ronshausen also serves the Executive Director for the Florida Coalition Alliance, representing over 30 community anti-drug coalitions.
Previously Mrs. Ronshausen worked for Operation PAR, starting off as a call specialist in their access center and then working as a juvenile certified GAIN assessor. Mrs. Ronshausen also worked as a juvenile counselor for PAR's Adolescent Recovery Intervention Services and the Juvenile Enhancement Treatment Services, trained in Motivational Enhancement and Cognitive Behavioral Therapy.
Prior to coming to S.O.S., Mrs. Ronshausen spent three years as a program specialist with Pinellas County Adult Drug Court, working under four judges. While in drug court, Mrs. Ronshausen linked defendants with treatment providers and monitored their progress through the criminal justice system. In 2007 Mrs. Ronshausen was awarded Best Team Practices for her work in Adult Drug Court.
She is a LiveFree! Key Leader Council member, chairs the Marijuana Task Force as part of the Hillsborough County Anti-Drug Alliance and serves on the Pinellas County Prescription Drug Advisory Board. Mrs. Ronshausen received her Bachelors of Arts Degree from University of South Florida. Ronshausen joined the Board of Trustees in June of 2018.
Informed Families is tremendously grateful to these outstanding new board members for committing to dedicate their time, talent and treasure to help kids grow up safe, healthy and drug free.