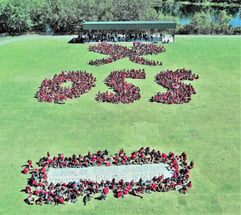 On December 3, the National Family Partnership (NFP) announced 20 winners of its 8th Annual National Red Ribbon Week Photo Contest. One Florida school, Orlando Science Charter School was named the Region 2 school entry winner for receiving the most votes in the Southeastern United States in support of its photo.
To participate in the contest, families and schools across the country decorated either their homes or school campuses with this year's Red Ribbon theme: "Life is Your Journey. Travel Drug Free." A total of $20,000 will be awarded to K-12 schools, which includes 10 winners who received the most votes in their region and 10 winners who were selected for Judges Awards. The families and individuals who entered on behalf of the schools will also receive an ipad.


"With our nation's current opioid epidemic, drug prevention is more important than ever," said NFP President and Informed Families President & CEO Peggy Sapp. "We designed the contest to involve families, schools, and communities in delivering drug prevention messages to children in a fun and uniting way. We are inspired by the winners and their wonderful stories about spreading the Red Ribbon message in their homes, schools and communities."

To qualify for the National Red Ribbon Week Photo Contest, families and schools were invited to decorate the front of their homes and campuses with a double-looped red ribbon and the words of this year's Red Ribbon theme: Life is Your Journey. Travel Drug Free, followed by submitting a photo of their decoration to redribbon.org. The Contest, which is co-sponsored by the Drug Enforcement Administration, was held in conjunction with the 33rd Annual National Red Ribbon Week.
Paola Stauffer, dean of students and character education coordinator at Orlando Science Charter, said the best part of the contest was "bringing the community together and the challenge of gathering so many for one goal. We had almost 1400 people in the picture including parents, staff and students K-12. The challenge of writing in the field and putting the message together was interesting, but working as a team made it happen."
"Congratulations to the winners of the National Red Ribbon Photo Contest," said DEA Acting Administrator Uttam Dhillon. "Thank you for engaging your families, schools and communities in the important conversation about drug education, prevention and living a drug free life. The DEA is pleased to support the continued work in your schools to prevent drug abuse and misuse in your community."

The drug epidemic in the United States is a current and pressing matter, which can only be halted through education and awareness. According to the Centers for Disease Control, approximately 74,000 Americans died of drug overdose last year. Through campaigns like Red Ribbon Week, the country can work together to educate the youth of America and create a safer future for our children.

The contest was part of NFP's National Red Ribbon Week® celebration – the nation's oldest and largest drug prevention campaign, which began in 1985 after the murder of DEA Agent Enrique "Kiki" Camarena. The inaugural National Red Ribbon Week was organized by NFP in 1988.

CONGRATULATIONS TO ALL 20 CONTEST WINNERS

MOST VOTES - HOME ENTRY

Region 1 - Schultz Family - Cambridge Springs Jr./Sr. High School, Cambridge Springs, PA
Region 2 - Moore Family - Louisiana Virtual Charter Academy, Baton Rouge, Louisiana
Region 3 - Martin Family - Dora RIII School, Dora, MO
Region 4 - Pringle Family - South Rock Creek School, Shawnee, OK
Region 5 – Beas Family - Jimenez Elementary, Santamaria, CA


MOST VOTES - SCHOOL ENTRY

Region 1 – Kelly Fox - Braintree High School, Braintree, MA
Region 2 – Paola Stauffer - Orlando Science School, Orlando, FL
Region 3 – Bev Davison - Dora RIII School, Dora, MO
Region 4 – Erica Guevara - Brownsville Early College High School – Brownsville, TX
Region 5 – Deborah Chatham – Naples Elementary, Vernal, UT


JUDGES AWARDS - HOME ENTRY

Most creative - Clark Family – Sigourney Elementary, IA
Best use of family and community - Fergus Family - St. Eugene School, Chicago, Il
Best use of the theme - Greene Family - International Studies Elementary Charter School, Albany, GA
Most educational - Faulkner Family - Rancho Buena Vista High School, Vista, CA
Most ambitious – Rohda Family - East Butler School, Brainard, NE


JUDGES AWARDS - SCHOOL ENTRY

Most creative – Melek Ateley - Florence L. Walther Elementary School, Lumberton, NJ
Best use of the theme – Ariel Brown - Hueytown Elementary School, Hueytown, AL
Best use of school and community – Deborah Chatham -– Naples Elementary, Vernal, UT
Most parent participation – Charity Saddler – Alta Brown Elementary School – Garden City, KS
Most educational – Vang Yang - Meyler Street Elementary, Torrance, CA

Close to 30,000 votes were cast in support of more than 350 contest entries. See all 2018 winning photo entries at http://redribbon.org/contest/winners.