The coronavirus pandemic can't stop something as important as Red Ribbon Week. This is the oldest and largest drug prevention program in the nation, reaching millions of young people during the nine-day celebration, held from October 23-31 each year.
Here are some suggestions on ways you can keep the fight against alcohol and drug abuse front and center this week.
Talk to your kids
Talk to your children about the dangers of illicit drugs and alcohol. Help them understand the reasons to make informed decisions when confronted with the challenges of peer pressure and the choice of risks vs. rewards.
Get them involved
Kids love crafts, so have them make decorations or crafts with red ribbons: wands, pinwheels, posters, etc.
Take it on the road
Organize a car caravan "cruise by" with participating vehicles sporting red ribbons, signs, and slogans to get the message out.
Spread the word
Create and share flyers, fact sheets, Red Ribbon Week events, and other materials with community coalitions, libraries, churches and synagogues, gymnasiums, grocery stores, health clinics, and other public areas to get the word out.
Take it online
Post Red Ribbon Week fact cards, available for free from the Red Ribbon campaign, on your social media platforms to inform your digital community about the purpose of the celebration.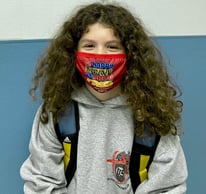 Piggyback the celebrations
Red Ribbon Week not only continues all week, but its conclusion coincides with Halloween this Saturday. So combine the two by having students dress up in Red Ribbon Week-related costumes, whether in the classroom or for Zoom lessons. And don't forget the Red Ribbon Week Mask Challenge. Wear a Red Ribbon-themed mask and post a photo on Twitter and Facebook for a chance to win a $25 Amazon gift card!
Image: McKelvie School, Bedford NH