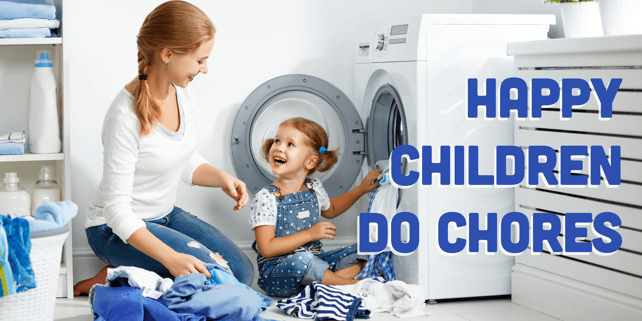 The recent developments around COVID-19/Coronavirus have upended daily life for many of us. School districts around the nation have closed schools, forcing kids to stay home. As a parent, you want to provide a sense of structure to your kids' day, while also maintaining your own sanity. In these uncertain times of social isolation, it is more important than ever to keep a clear head and work together with your family to help you make the best of the situation.
Did you know that kids who do chores around the house are actually happier than kids who don't, according to the latest research?
Do you want your kids to help out more around the house but find it painfully difficult to motivate them? Do you frequently find yourself wiping your brow, sighing and saying, "I'll just do it." Does it seem like getting your children to do chores is a bigger chore in itself?
Good news: it doesn't have to be so hard. We have a wonderful tool for you to help you encourage more cooperation and clarity for all. It's a calendar-based chore chart where you can list each task, the person responsible for completing the task and there's a handy check box for you to use when the task has been completed.
Here are some tips for how to use the chart:
Don't bite off more than you can chew. Start with one chore a day or a couple of chores a week. You want to avoid overwhelming your child and overwhelming yourself.
Accentuate the positive. Determine early on what rewards you will offer your children for following through with their tasks. Some parents simply give praise, others use the chart to calculate each week's allowance.
Age matters. Only assign age-appropriate chores. Younger children should not be assigned complex or intense, physically demanding work.
Don't debate. Chores aren't a negotiation. Let your children know from the beginning that you will not engage in conversations or whining about chores. If they do their chores, they get some kind of positive reinforcement and if they don't, you can decide whether to offer a negative consequence or simply withhold the positive reward.
Be consistent. By implementing this system, you are making a commitment to following through both when your children are agreeable and when they are not. If you fill this out and look at it every once in a while, you're not doing anyone any favors.
Download the Chore Chart