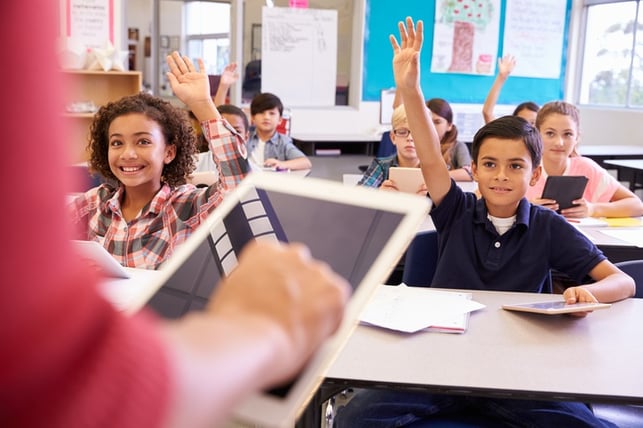 In 1985, drug traffickers in Mexico City kidnapped, tortured and murdered DEA agent Enrique "Kiki" Camarena. A tradition emerged from this tragedy—people started wearing and displaying red ribbons to commemorate his life and to symbolize intolerance toward the use of drugs. That tradition evolved into Red Ribbon Week®, a national event that encourages schools and communities to take a visible stand against drugs and to communicate with kids on the value of making healthy, safe choices.
Red Ribbon Week 2016 is scheduled for Oct. 23-31. As the largest and oldest drug prevention program in the United States, the Red Ribbon Campaign® has reached and positively impacted millions of young people. Here is some more information about Red Ribbon Week 2016, in which an estimated 80 million people will participate, and what teachers and schools can do to make the event a success:
#youonlyliveonce
The theme for this year's Red Ribbon Week is "YOLO. Be Drug Free." YOLO is short for "you only live once" and is an apt message for today's teens. An estimated 4,300 kids under the age of 21 die every year from underage drinking-related causes and drug overdoses kill more people than auto accidents and guns. The YOLO theme reminds everyone that we only live once and it's important to take care of our minds and bodies.
Teacher Tools
Informed Families is proud to sponsor Red Ribbon Week in Florida. We want to help teachers make this event a success for their schools and, especially, for the kids they teach and want to see succeed. Thus, we offer educator-focused resources on our website.
The first resource is the Ambassador Toolkit, which contains all the free resources that your school will need to get this year's Red Ribbon Week up and running smoothly. The Ambassador Toolkit contains:
Morning announcement scripts

Red Ribbon Week curriculum ideas for elementary, middle and high schools

Templates for inserts to the school newsletter

Sample Facebook and Twitter posts that can be used on your school's social media accounts to promote Red Ribbon Week
You will only have access to the resource above if you're currently an Informed Families Ambassador. However, if you're not an Ambassador at this time, you have two options: You can become an Ambassador, or you can download the Red Ribbon Planning Guide, which is an abbreviated version of the toolkit above.
Partnering with Parents
Red Ribbon Week is a great opportunity for educators to start a conversation about keeping kids safe, but they don't have to start that conversation on their own. Teachers can work with parents to make Red Ribbon events—and the messages behind the campaign—a success. Here are some resources you can point parents to in preparation of Red Ribbon Week:
Red Ribbon Photo Contest
Another fun part of Red Ribbon Week is the 2016 national photo contest. Schools can enter by decorating the school campus with a double-looped red ribbon and the 2016 theme: "YOLO. Be Drug Free." Families can also enter by decorating their home front door, mailbox or fence. Take a picture of your creation and submit it to Red Ribbon's website, then tell everyone you know to vote for your photo. Submissions in each region receiving the most votes will win—an iPad for family entries and $1,000 for their schools; schools win $1,000 as well as an iPad for the person who submitted the entry. Informed Families will be giving out a special prize to the top school entry and top home entry in Florida.
Entries will be accepted through Nov. 2; votes can be cast through Nov. 17. Red Ribbon Week has also created a video with more details about the contest. And remember, the goal of this contest isn't necessarily to win, but to collaborate on your decoration, raise awareness, have fun, and, again, open the lines of communication with teens in order to keep them safe and healthy.
What are you doing for Red Ribbon Week?