As we wave goodbye to the relaxing days of summer and usher in the bustling fall season, the rhythm of life begins to change once again. August, a month filled with excitement and anticipation, marks not only 'Back to School Month' but also 'Family Fun Month.' So why not combine these two unique themes and make the transition back to school an engaging and enjoyable experience for the whole family?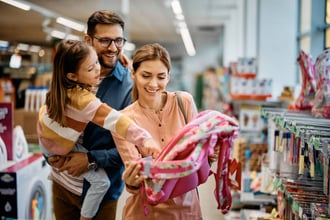 Starting school after the long summer break can be a momentous occasion for children. It represents a new academic year filled with new teachers, new friends, and new learnings. It's a time of growth and opportunities, of challenges and achievements. But for some children, it can also be a time of anxiety and uncertainty.

This is where Family Fun Month comes into play. A fun-filled family time can help ease the transition and provide a strong support system for children as they navigate the new academic landscape. It can also serve as a reminder that although school is essential, so is spending quality time together as a family. This is a time to nurture relationships, create lasting memories, and strengthen the bond of family.

So how do we incorporate 'Family Fun Month' into 'Back to School Month'? Here are a few ideas!

1. Family Learning Activities: Make the learning process more engaging and fun by turning it into a family affair. These activities can include reading together, educational board games, and DIY science experiments at home. This way, children can associate learning with fun, thereby reducing any academic anxieties they may have.

2. Back-to-School Shopping Spree: Turn the annual back-to-school shopping trip into a fun family event. Let your kids choose their backpacks, lunch boxes, stationery, and other school supplies. This will not only add a dash of excitement to the shopping process but also give children a sense of responsibility and ownership.

3. Family Meal Planning: Involve your children in meal planning and preparation for their school lunches. This can be a great time to talk about nutrition, make healthier food choices, and even incorporate math skills as you measure ingredients.

4. Plan a Family Fun Day: Before school starts, plan a family day out. It could be a picnic, a trip to a museum or zoo, or simply a day in the park. The idea is to spend quality time together, creating lasting memories before the school hustle begins.

5. Establish a Family Routine: A routine can provide a sense of security and help children adjust to the change. Creating a family routine that includes time for homework, family meals, and fun activities can bring balance and stability.

Combining the themes of 'Back to School Month' and 'Family Fun Month' can provide an excellent opportunity for families to bond, learn, and grow together. So, this August, let's make the back-to-school transition not just an academic one, but a family journey filled with fun, love, and memorable experiences.

Remember, at the heart of both these observances is the intention of creating a supportive, nurturing environment for our children to thrive. By incorporating elements of fun into the educational process, we can encourage a love for learning and foster a sense of belonging that will serve our children well throughout the school year and beyond.