On October 7th, Informed Families' President & CEO Peggy Sapp had the opportunity to travel to Washington, D.C. to attend the DEA's Red Ribbon Rally. The rally served to drive messaging around Red Ribbon Week, our nation-wide campaign dedicated to encouraging Americans to live healthy and drug-free.
The event recognized the accomplishments of several young people who have excelled in calling attention to the benefits of a drug-free lifestyle through their artwork. The DEA's Acting Administrator Uttam Dhillon was in attendance, as was the First Lady who delivered remarks about the dangers of vaping and the need to eliminate drug use among our youth.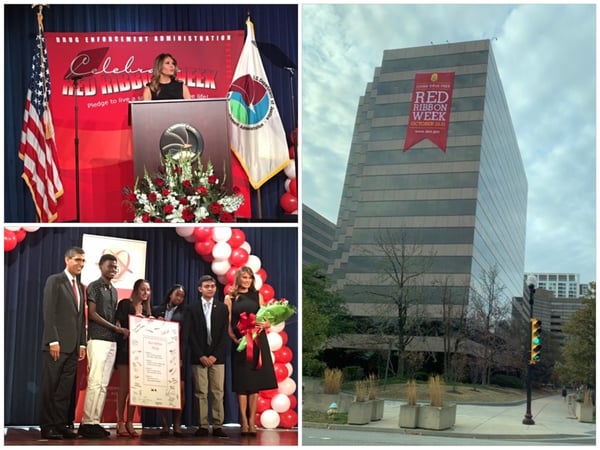 Prior to taking the stage, the First Lady met with Mika Camarena, fallen Special Agent Enrique "Kiki" Camarena's wife. As you know, his story is the foundation of the Red Ribbon Week campaign. It is a reminder of the dangers surrounding illegal drug activity and honors all those who serve to protect our communities against drug violence.
The National Family Partnership was featured in the DEA's segment about the Red Ribbon Campaign's history. In 1988, NFP coordinated the first National Red Ribbon Week, an eight-day celebration proclaimed by the United States Congress with President and Mrs. Reagan serving as honorary chairpersons.
The Department of Defense's Red Ribbon Awards Ceremony, to honor our military's outstanding drug prevention programs, will be held on October 17. In 1990, the DOD joined the national Red Ribbon effort by creating a program to encourage service members to become involved in keeping communities drug-free. Each year, one winner is selected from each branch of the military service to receive the secretary of Defense's Community Drug Awareness Award. From those winners, one military unit is then named the best anti-drug program for the entire military that year. This is a worldwide competition including ships at sea. This wonderful event is held in the Hall of Heroes at the Pentagon. Are you a Hero?
As Red Ribbon approaches again this year, we ask you, what is your Red Ribbon story? It is our goal to help get all Americans across the country engaged in prevention and awareness activities. How will you help make a difference? Share your ideas and activities with us by sending an email to: info@informedfamilies.org.