Amidst the fast-paced rhythm of modern life, it's easy for the age-old tradition of family dinners to get lost in the shuffle. But have you ever wondered about the profound impact of these seemingly simple moments shared over a meal? Our Family Days™ Campaign is a national movement reviving the significance of family meals and their remarkable benefits on our youth.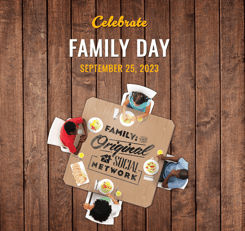 The Origins of Family Days™

The idea of Family Days™ isn't just a nostalgic nod to a bygone era. It was birthed from a foundation of research.
The National Center on Addiction and Substance Abuse at Columbia University has consistently found a strong correlation between family dinners and a decreased likelihood of youth engaging in substance abuse or other risky behaviors. In essence, the more often children dine with their families, the less likely they are to embark on potentially harmful paths.
Understanding the weight of this connection, Informed Families pioneered the concept of Family Days™. The aim was simple yet profound: to remind families about the importance of coming together, forging connections, and creating a protective environment for young members simply by sharing regular meals.

The Importance of Family Dinners

Beyond the tangible benefits of nourishing our bodies, family dinners provide an invaluable platform for communication, understanding, and bonding. This regular ritual fosters a sense of belonging, teaches important social skills, and provides an opportunity for parents to impart values, discuss challenges, and celebrate achievements.

Moreover, in an age where screens often dominate our attention, the family dinner table is a rare moment where we can disconnect from the digital world and connect with each other, face to face, heart to heart.
Get Involved!
Family Days™ is not just about the act of eating together; it's about a cultural shift, a national movement towards re-embracing the family unit as a source of strength, guidance, and support.
This September 25th, Informed Families invites you to be a part of this transformative journey:
Commit to the Cause:

Pledge to have dinner with your family on Family Days™. Mark it on your calendar, plan a special menu, or even host a potluck.

Spread the Word:

Talk about Family Days™ with friends, neighbors, and colleagues. Encourage them to get involved.

Share Your Moments:

Use social media platforms to share your family dinner experiences, photos, or stories using the hashtag #FamilyDays2023. Let's inspire others through our collective experiences.

Engage with Schools and Communities:

Collaborate with local schools, community centers, or religious institutions to host family dinner nights or workshops highlighting the benefits of family meals.

Be Consistent:

While Family Days™ is a specific date, its essence can be incorporated daily. Make family dinners a regular occurrence, not just an annual event.
In today's world, where external influences constantly compete for our attention, Family Days™ serves as a beacon, reminding us of the unparalleled power and potential of the original social network: our family. So, on September 25th and every day thereafter, let's stand up for sitting down, prioritizing connection over chaos, and championing the timeless tradition of family dinners.