In it's 29th year, National Red Ribbon Week® is alive and thriving. The State of Florida, which has always been a leading state in Red Ribbon Week participation, led by Statewide Sponsor Informed Families, is a wonderful example of the power of grassroots to create lasting change. With the current opioid epidemic, Red Ribbon Week is more important than ever.
Families, schools and communities across Florida demonstrated their commitment to a Drug-Free America during 2017 Red Ribbon Week® (October 23-31). Informed Families partnered with volunteer Ambassadors, agencies, organizations and businesses, leveraging resources and reaching more children and families with prevention messages.
Red Ribbon Week, the oldest and largest drug prevention program in the nation, was created after the death of DEA Special Agent Enrique "Kiki" Camarena, who was kidnapped, tortured and killed in Mexico in 1985. In 1988, the inaugural National Red Ribbon Week®, sponsored by the National Family Partnership, was created. An estimated 80 million people celebrating each year.
Here are some highlights from 2017 Red Ribbon Week: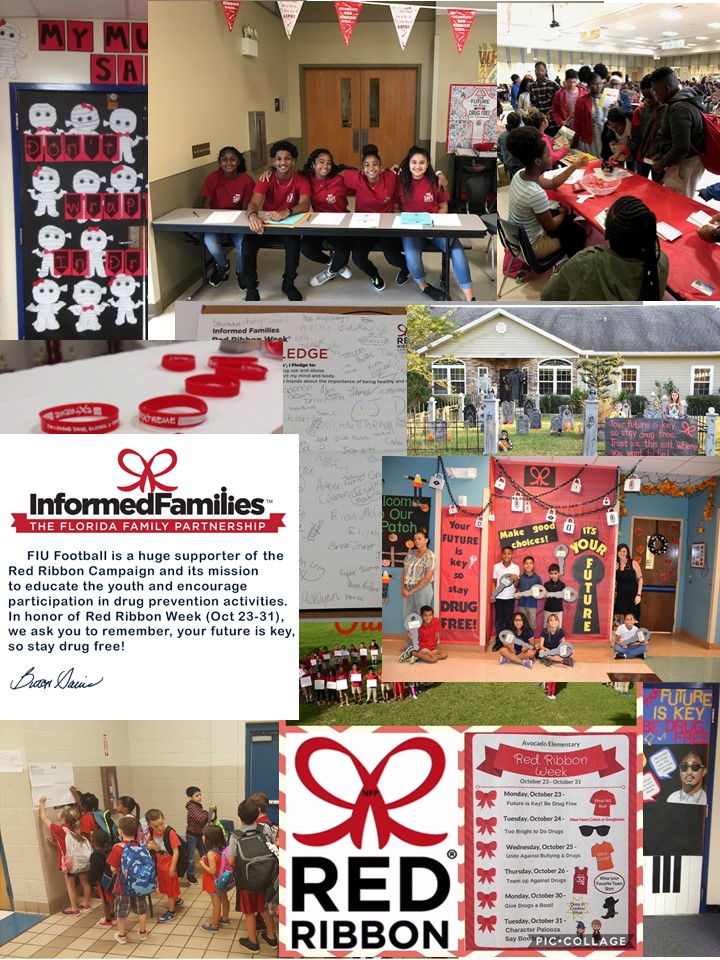 Informed Families equipped close to 300 schools and communities in 67 counties across Florida reaching approximately 300,000 students and their families with prevention tool kits, featuring youth pledges, posters, parent flyers, morning announcements, newsletter entries, activity guides and more, through our Ambassador Program.
Seeing red? Individuals, schools and communities across the state proudly wore red, displayed red ribbons, decorated fences, cars and buildings and used the week as an opportunity to incorporate Informed Families' educational prevention materials with students and their families.
A Red Ribbon Week video for parents, funded by the Batchelor Foundation, was distributed online to remind parents that "Red Ribbon Is A Gift." Additionally, a Red Ribbon Parent Guide was shared with parents seeking tips about preventing substance abuse in their own homes.
Social media messages from influencers like FIU Football Coach Butch Davis and supporters from schools, coalitions, law enforcement and government made Red Ribbon Week almost impossible to miss!
Schools across the state entered Informed Families' Florida Red Ribbon Photo Contest, which offered experiential learning while delivering the 2017 National theme message: "Your Future Is Key, So Stay Drug Free®." The school entry with the most votes in Florida will receive $500 from Informed Families. Stay tuned for the announcement of the winners later this week!
101 schools in Miami-Dade County received Red Ribbon Week themed promotional materials, in addition to their toolkits to help inspire creativity and offer incentives to students and families who took on leadership roles, thanks to generous funding from The Batchelor Foundation.
And so much more, it's truly impossible to capture it all.
"Red Ribbon Week is and always has been a Prevention Delivery System," said Informed Families President & CEO Peggy Sapp. "Through grassroots support in schools and communities, Red Ribbon Week sets the stage for parents, educators and community members to have open and honest conversations with their children about making healthy choices."
Most importantly, Informed Families thanks the parents/caregivers, educators and concerned citizens who used Red Ribbon Week as an opportunity to talk to the children in their lives about the importance of being safe, healthy and drug free.
Thank You!
Your effort and dedication to children makes it possible to reach thousands of kids statewide with the wonderful Red Ribbon message. We are truly honored to work with you in keeping kids safe, healthy, and drug free!
Thinking About Becoming An Ambassador?
We are gearing up for our next campaign: Lock Your Meds, so now is a great time to join the prevention movement! Florida Ambassadors receive toolkits, materials, and (very short and easy) training to implement the four campaigns.
Ready to sign up?