In the hustle and bustle of our contemporary world, with deadlines at work, after-school activities, and an array of external commitments, making time for family often gets relegated to the bottom of our to-do list. Yet, amidst this chaos, the age-old tradition of a family dinner stands as a beacon of connection, reflection, and bonding. But how can we, in the midst of our ever-tightening schedules, prioritize this invaluable time? Here are some tips to help you strike that balance: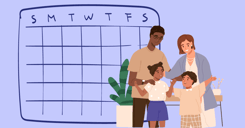 1. Synchronize Calendars
Every month, sit down with your family and synchronize schedules. Make note of work commitments, school activities, and other appointments. Slot in a few consistent family dinner dates that work for everyone. Even if it's just once or twice a week, that's a start!

2. Keep It Simple
Family dinner doesn't necessarily mean a three-course meal. On busier nights, consider quick recipes or even take-out, enjoyed at the dining table. The goal is to be together, not to create an elaborate dinner.

3. Embrace Technology (Yes, Really!)
Use technology to your advantage. Apps like "Trello" or "Google Calendar" can help families keep track of each other's schedules and commitments. Set reminders for family dinner nights so everyone's on the same page.

4. Prep Ahead
When you have a bit of free time during the weekend or on a less hectic day, try batch cooking. Prepare a few meals ahead of time, freeze them, and heat them up on those manic weekdays. It saves time and ensures you have a home-cooked meal.

5. Establish a 'No Tech at the Table' Rule
Even if dinner lasts just 20 minutes, ensure quality time. A rule where everyone leaves their phones and gadgets away from the dining area can help ensure meaningful conversations.

6. Flexibility is Key
Sometimes schedules change, and that's okay. Consider a family breakfast or a weekend brunch if dinner is impossible. It's about finding moments, however brief, to come together.
7. Involve Everyone
To ease the burden, make dinner a team activity. Assign tasks: someone sets the table, another handles the drinks, and someone else tosses a salad. It fosters a sense of unity and makes prepping for dinner quicker.
8. Reclaim the Essence of Dining
It's not about the food, but the experience. Create traditions – perhaps a "Taco Tuesday" or a "Friday Family Pizza Night". These create anticipatory excitement and become cherished family memories.
9. Have a Backup Plan
For those days when everything seems to go awry, and cooking is out of the question, have a list of healthy take-out options. Order in, but ensure you all sit down together.

10. Value the Effort
Lastly, understand that it's the effort that counts. Some weeks will be better than others, and that's alright. Celebrate the evenings you manage to come together and let go of the guilt on days when it's impossible.

Family dinners are more than just meals. They are moments of reconnection, reflection, and rejuvenation. In the swirling vortex of our daily commitments, they act as anchors, grounding us in what truly matters: family. So, as you navigate your busy life, remember to carve out those precious moments. They're the memories and bonds that last a lifetime.