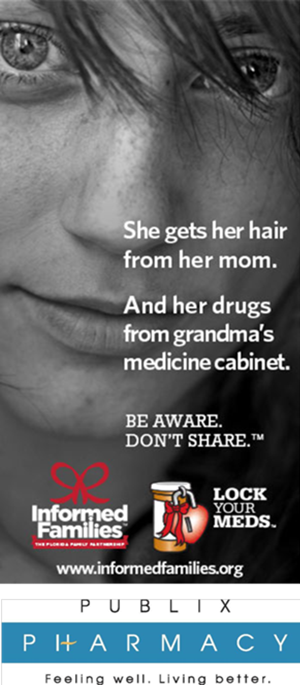 This January, Informed Families is partnering with Publix Pharmacy to deliver the Lock Your Meds® campaign, which aims to reduce prescription drug abuse by making adults aware that they are often the unintended suppliers of abused prescription medications.
Lock Your Meds asks individuals to secure their medication, take regular inventory to ensure nothing is missing, safely dispose of unused or expired medication and share the message with friends and family.
The campaign will be featured in 646 Publix Pharmacy stores across Florida through counter displays and printed pharmacy receipts containing a message about Lock Your Meds. This is the fourth year in a row that Publix, the fastest growing grocery chain in America, is collaborating with Informed Families to reduce prescription drug abuse in Florida's communities.